Calibration and upgrades covered at time of repair Everett, Wash. - Fluke Corporation, the global leader in handheld electronic test and measurement technology, today announced the new Silver Instrument CarePlan, a warranty that extends coverage of selected Fluke bench instruments for two or four years beyond the original warranty. Owners of these Fluke bench instruments may purchase Silver...
Read More »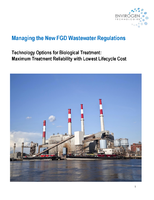 EPA Steam Electric Power Generating Effluent Limitations Guidelines, or ELG's, impact coal-fired power plant operations and their wastewater management. Specifically, the ELG's impose limits for suspended solids, arsenic, mercury, selenium, and nitrate/nitrite for Flue Gas Desulfurization (FGD) wastewater. These regulations drive the need for technology based solutions that address and adapt to variables such as the nature of wastewater streams, types of contaminants, contaminant loading, and costs. In this guide you will learn about the best available technologies for complying with the new standards. One of the leading contenders in this process is the Fluidized Bed Reactor or FBR, which removes soluble selenium and other metals from FGD wastewater. Advantages of fluidized bed reactors include optimum microorganism efficiency, smaller overall footprint, steady-state operation, lower hydraulic residence times, system robustness, and lower costs. Download this guide for additional information on FBR technology for treating FGD wastewater, including pilot studies and tests, and polishing selenium removal options.
Read More »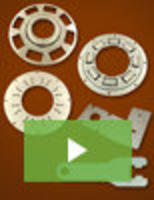 PDS is an established leader in progressive die stamping, with a reputation for providing precision and value that dates back more than half a century. Through extensive capabilities and a staff of seasoned professionals, we set the standard for quality, delivering flexible services that can meet the needs of the most challenging requirements. See our video to learn more.
Read More »