Operating in X-band at 11,000 MHz, SFS11000Z-LF single-frequency signal source features self-locking mechanism with lock detect. Typical phase noise is rated at -84 dBc/Hz @ 10 KHz offset, with typ reference spur suppression of -70 dBc. Supplied in 1 x 1 x 0.22 in. package, RoHS-compliant product delivers typ output power of 0 dBm with VCO voltage supply of 5 Vdc while drawing 90 mA (typ) and PLL...
Read More »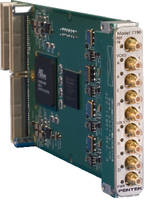 Using 4 TI CDC7005 clock synchronizers, each controlling one quad-frequency VCXO, Model 7190 lends designers working with A/Ds and D/As precise source of clock signals in PMC format. All 8 output clocks are phase-locked to external frequency reference, and unit is programmed to select any one of its 4 VCXO frequencies. Resulting frequencies can be divided by 1, 2, 4, 8, or 16. Up to 5 different...
Read More »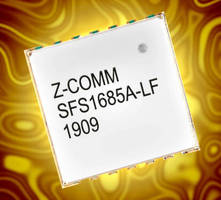 Measuring 0.60 x 0.60 x 0.13 in., Model SFS1685A-LF features typical phase noise of -106 dBc/Hz at 10 kHz offset and typical sideband spurs of -80 dBc. Unit delivers output power of 6 dBm with VCO voltage supply of 5 Vdc while drawing 31 mA and phased locked loop voltage of 3 Vdc while drawing 9 mA over temperature range of -40 to 85°C. Featuring typical 2nd harmonic suppression of -25 dBc,...
Read More »
Addressing requirements of optical transceiver manufacturers, PXIT N2100B DCA is available with PXIT 10G Digital Communication Analyzer (DCA), Passive Optical Network (PON) filter rate options, and smart post processing. It supports data acquisition rates to 160 MS/s and also enables transceiver manufacturers to capture multiple sets of eye diagrams under different test conditions and then...
Read More »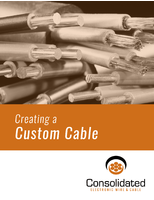 Consolidated Electronic Wire & Cable's new eBook, Creating a Custom Cable, reviews the key elements to designing your perfect custom-made cable solution.
Read More »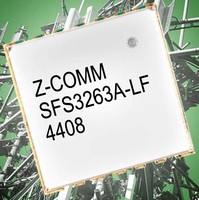 Operating in S-band at 3263.31 MHz, RoHS-compliant SFS3263A-LF features typical phase noise of -95 dBc/Hz @ 10 kHz offset and typical sideband spurs of -70 dBc. It delivers typical output power of 9 dBm with VCO voltage supply of 5 Vdc while drawing 33 mA (typ) over -40 to +85Â-ºC range. Additional characteristics include typical phase locked loop voltage and current of 3 Vdc and 13 mA,...
Read More »
Comprised of 25 sole source and second source clock synthesizers, QuietClock(TM) Series typically limits RMS jitter to 60 femtosecond. Units feature 3.3 and 2.5 V operation, 1-10 outputs from mix of single-ended and differential outputs, and industrial temperature range of -40 to 85°C. Covering frequencies used by PHY, MAC, SERDES, and memory subsystems, ICs are suited for Gigabit Ethernet,...
Read More »
Model SY89610L takes in selected frequency clocks between 19-694 MHz and outputs selected frequency with low jitter, typically 1 psec rms. Device input accepts ac- or dc-coupled differential signals such as LVDS, LVPECL, and CML, and incorporates LC Tank VCO and auto-tune circuit that optimizes signal performance. Available in 32-pin MLF® package, applications include SONET/SDH, 10GeB FEC,...
Read More »
Utilizing low-noise VCO and PLL architecture, Model MAX3674 generates 5 ps RMS jitter output up to 1,360 MHz from low-frequency reference clock provided by on-board crystal oscillator or external LVCMOS clock. Unit provides 2 differential LVPECL outputs for same or different frequencies. IÂ-²C-compatible interface enables fine-tuning of output frequency for frequency-margining testing....
Read More »
Geneva, January 04,2008 - An ultracompact MEMS accelerometer and a multi-band RF synthesizer from STMicroelectronics (NYSE: STM) were selected as top products in the quarterly EETimes and eeProductCenter Ultimate Products Survey. ST's LIS244AL low-g linear accelerometer was chosen as a Top Ten product in the Interconnect/Passives and Electromechanical category. ST's accelerometer won acclaim from...
Read More »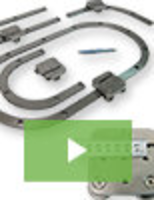 For the ultimate in precision open and closed loop guided motion systems, TPA Motion is the leader in curved rail, liner guides. We specialize in engineering excellence, with products that exhibit an elevated level of precision, delivering robust performance, even under the most challenging conditions. See our video to learn more.
Read More »