March 18, 2009 (Pawcatuck, Conn.)--Davis-Standard, LLC will exhibit three of its most versatile extruder models with improved control technology during NPE. The extruders on display include a 2 ½-inch (60mm) Super Blue® with a DS-eTPC touch-panel control system, an HPE-150A and HPE-125H. The DS-eTPC provides a touch-panel solution to replace discrete temperature controllers, temperature...
Read More »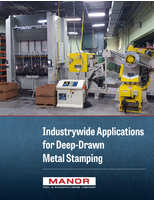 Deep-drawn metal stamping applies a significant punching force to radically draw metal sheets into a die cavity. Finished components produced by this process tend to have a depth that exceeds their diameter, which is why manufacturers refer to it as "deep-drawn" metal stamping.
Read More »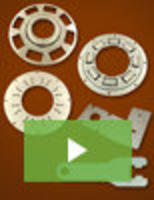 PDS is an established leader in progressive die stamping, with a reputation for providing precision and value that dates back more than half a century. Through extensive capabilities and a staff of seasoned professionals, we set the standard for quality, delivering flexible services that can meet the needs of the most challenging requirements. See our video to learn more.
Read More »