Machine Surpasses Customer's Expectations Rolling Meadows, IL, March 16, 2010-Late in 2009, Komatsu America introduced the first of ten Hybrid PC200LC-8 excavators into the U.S. market to test the innovative equipment that was designed to reduce environmental impact by saving fuel and reducing green house emissions. On March 11, 2010, representatives from Komatsu, along with representatives from...
Read More »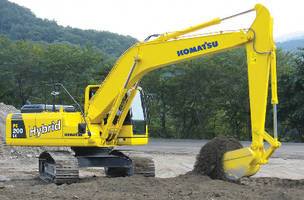 Powered by Komatsu Hybrid System, Hybrid PC200LC-8 uses electric swing motor, power generator motor, capacitor, and diesel engine to help minimize environmental impact. Turbocharged, air-to-air, after-cooled SAA4D107E-1 engine provides 138 hp. Featuring operating weight of 42,642-47,260 lb and bucket capacity of 0.66-1.57 ydÂ-³, excavator includes 7 in. LCD monitor for onboard diagnostics,...
Read More »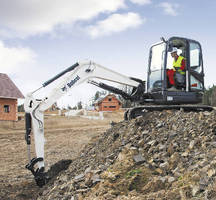 Equipped with Interim Tier-4 50 hp engine, Model E60 features dig depth of 13 ft, 7 in. and operating weight of 13,556 lb with rubber tracks. Engine control system has auto-idle feature that minimizes fuel consumption when machine is not working. Spacious cab has operator seat that adjusts 9 ways and heating/air conditioning system with automotive-style controls. With minimal tail swing, E60 can...
Read More »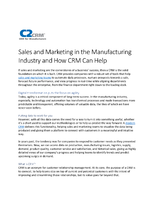 To learn more about the importance of CRM and how it can specifically address your company's needs, download now.
Read More »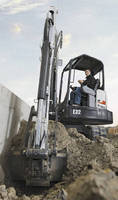 Respectively weighing 3.2 and 3.5 metric tons, E32 Conventional Tail Swing excavator and E35 Zero Tail Swing excavator employ load-sensing piston pump and closed center-valve system for smooth control of machine functions. Both M-Series models use X-frame undercarriage for optimal ground clearance and shedding of debris. Auto-Shift travel and Auto-Idle features are standard, as is integrated slew...
Read More »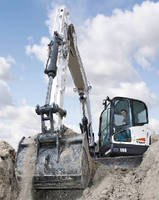 Powered by 54.2 hp Tier-compliant engine subject to auto-idle feature for reduced fuel consumption, E80 features in-track swing frame that keeps boom within width of tracks for working in constricted areas. Greasing of bushings at boom, arm, and bucket pivot have service interval of 250 hr, and cab has heating and A/C system as well as operator seat that adjusts 6 ways to promote operator...
Read More »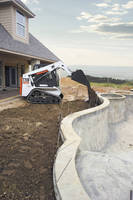 Built for working in residential backyards or other hard-to-reach areas, Bobcat® T110 features all-steel undercarriage that withstands tough digging conditions. It comes standard with Bob-Tach® attachment mounting system with auxiliary hydraulic flow of 12.5 gpm, and it accommodates 26 different attachments including hydraulic breakers for demolishing concrete or asphalt, pallet forks...
Read More »
Suited for confined work spaces, 3 ft 3 in. wide U17 zero-tail swing excavator features 11 ft 7 in. max digging height, 8 ft max dumping height, 7 ft 7 in. max digging depth, and bucket breakout force of more than 3,000 lb. It is powered by 17 hp Kubota D902-E3 engine and features 11.9 gpm hydraulic pump capacity for responsive operation. Rubber tracks provide smooth ride and minimal ground...
Read More »
Suited for contractors and landscapers, 8-ton KX080-3 Super Double Boom Excavator features dumping height of 20 ft and digging depth of 15 ft. It is equipped with 4-cylinder, 70 hp Kubota diesel engine and auto idling system. Double boom holds soil in front of blade when leveling, while eliminating small piles of rocks and rubble left by standard boom. Breakout force of 14,660 lb optimizes...
Read More »
Intended for rental users, contractors, and landscapers, KX121-3 Super Series features hydraulic Float Angle Blade or optional 6-in-1 blade that can be angled 25° and tilted 10° for optimal leveling and backfilling. Optional blade is 5 ft, 11 in. wide and extends 2 in. past excavator tracks on each side. Powered by 4-cylinder, 40.5 hp diesel engine, KX121-3 includes load-sensing...
Read More »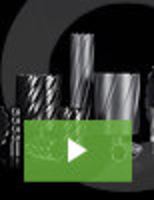 As a globally recognized manufacturer of industrial grade portable tools, Euroboor is at the forefront of drilling and cutting technology. Our reputation as an industry leader is built on robust products that fit a wide range of industrial cutting and drilling applications. See our video to learn more about all of our quality products.
Read More »