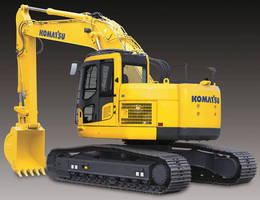 With 5 modes of operation and 53,195-54,405 lb operating weight, tight tail series model PC228USLC-8 is built for operator control and comfort. Excavator is powered by Komatsu SAA6D107E-1 engine and features EPA Tier 3 emissions-certified, electronically controlled HPCR (High Pressure Common Rail) fuel injection system. The 2,865 lb counterweight promotes lift capacity and stability, and variable...
Read More »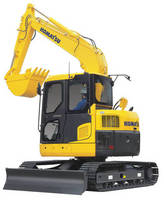 Suited for small- to mid-sized applications, PC78US-8 is powered by 55 hp Komatsu SAA4D95LE-5 engine and has 16,240 lb operating weight. Machine operating information is sent to secure website via wireless technology for analysis, and 5 working modes enable performance to be tailored to application. In addition to max digging height of 24 ft 11 in., specifications include max digging depth of 15...
Read More »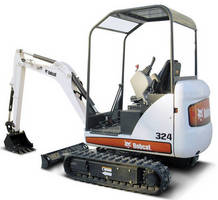 Offered as conventional tail swing unit in 1.5 ton operating class, Bobcat® 324 has boom cylinder attached to top of boom with cast pivot joints. Max dig depth is 8 ft 6 in., reach at ground level is 14 ft, and dump height clearance is 8 ft 8 in. In addition to hydraulically retractable undercarriage, excavator features 13.9 hp, Tier 4, water-cooled diesel engine and 2 travel speed ranges....
Read More »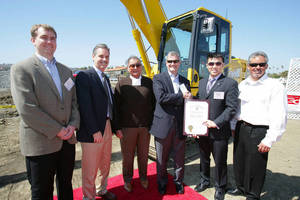 Hybrid PC200LC-8 Excavator at work at the Port of L.A. Rolling Meadows, IL, Komatsu America Corp. was recognized by the Office of Los Angeles Mayor Antonio Villaraigosa for its commitment to green technology and its Hybrid PC200LC-8 Excavator. Chairman and CEO of Komatsu America Corp., Dave Grzelak, accepted the Certificate of Recognition from Los Angeles from Stephen Cheung, Vice President...
Read More »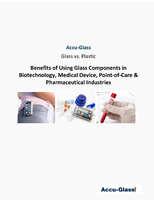 This white paper from Accu-Glass outlines the various properties that make glass such an attractive option for a diverse range of medical-related applications.
Read More »
Machine Surpasses Customer's Expectations Rolling Meadows, IL, March 16, 2010-Late in 2009, Komatsu America introduced the first of ten Hybrid PC200LC-8 excavators into the U.S. market to test the innovative equipment that was designed to reduce environmental impact by saving fuel and reducing green house emissions. On March 11, 2010, representatives from Komatsu, along with representatives from...
Read More »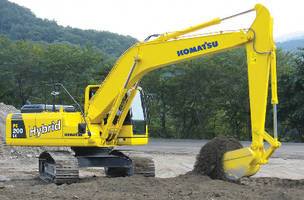 Powered by Komatsu Hybrid System, Hybrid PC200LC-8 uses electric swing motor, power generator motor, capacitor, and diesel engine to help minimize environmental impact. Turbocharged, air-to-air, after-cooled SAA4D107E-1 engine provides 138 hp. Featuring operating weight of 42,642-47,260 lb and bucket capacity of 0.66-1.57 ydÂ-³, excavator includes 7 in. LCD monitor for onboard diagnostics,...
Read More »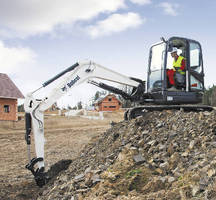 Equipped with Interim Tier-4 50 hp engine, Model E60 features dig depth of 13 ft, 7 in. and operating weight of 13,556 lb with rubber tracks. Engine control system has auto-idle feature that minimizes fuel consumption when machine is not working. Spacious cab has operator seat that adjusts 9 ways and heating/air conditioning system with automotive-style controls. With minimal tail swing, E60 can...
Read More »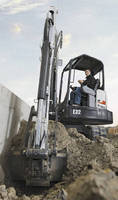 Respectively weighing 3.2 and 3.5 metric tons, E32 Conventional Tail Swing excavator and E35 Zero Tail Swing excavator employ load-sensing piston pump and closed center-valve system for smooth control of machine functions. Both M-Series models use X-frame undercarriage for optimal ground clearance and shedding of debris. Auto-Shift travel and Auto-Idle features are standard, as is integrated slew...
Read More »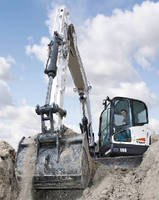 Powered by 54.2 hp Tier-compliant engine subject to auto-idle feature for reduced fuel consumption, E80 features in-track swing frame that keeps boom within width of tracks for working in constricted areas. Greasing of bushings at boom, arm, and bucket pivot have service interval of 250 hr, and cab has heating and A/C system as well as operator seat that adjusts 6 ways to promote operator...
Read More »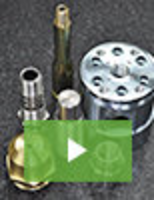 Quality, customer service, and unbeatable value are the hallmarks of Hogge Precision. Since 1989 we have built a reputation as the go-to precision machining source, servicing many demanding industries. For CNC machining and screw machining, there are few manufacturers that can match our capabilities and expertise. See our video to learn more.
Read More »