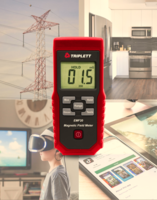 Measures ELF electromagnetic fields produced from electric transmission equipment, microwave ovens and more. Includes carrying case to keep the unit safe en route to the site. Measurements have a ±2.5% accuracy and can be displayed in milligauss or µTesla.
Read More »
Visit booth 1640 to learn more about the latest flow meters and level meters suitable for minerals and mining Peabody, MA- – KROHNE, Inc. will showcase a wide range of its industry-leading mining products at the Society for Mining, Metallurgy and Exploration's (SME's) 2016 Conference and Exposition, to be held February 21-24, 2016 at the Colorado Convention Complex in Denver, CO. KROHNE...
Read More »

Souderton, PA — With today's rapidly increasing presence of electronics and technology, more and more commercial and industrial products are emitting potentially harmful RF fields. As a result, various organizations and agencies are beginning to levy guidelines and allowable limits on human exposure to RF fields. For certain industries, it is now required that they measure the electromagnetic...
Read More »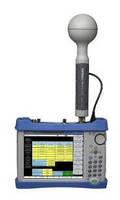 Spectrum Master™ MS271xE handheld spectrum analyzers and Cell Master™ MT8212E/MT8213E base station analyzers support electromagnetic field (EMF) radiation measurement option. With option installed and 0.7–6 GHz isotopic antenna attached, analyzers can be used to ensure wireless networks comply with personal safety standards. Total radiation from all sources can be measured over desired...
Read More »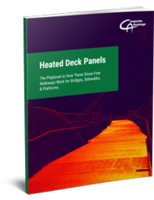 Heated Deck Panels: The playbook to how these snow-free walkways work for bridges, sidewalks, and platforms
Read More »

Used for measuring and monitoring RF- electromagnetic field strengths, E200 has high frequency radiation range of 50 MHz to 3.5 GHz. Instrument takes isotropic (non-directional) measurements of electromagnetic fields with three-channel measurement sensor- and- can store and recall up to 200 data sets. In addition to reports electrical and magnetic field strength and power density, tool offers...
Read More »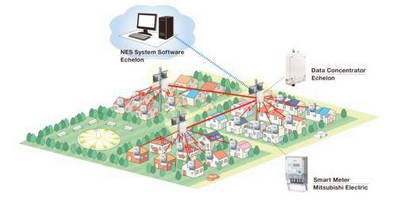 Integrating Echelon's grid-sensing and communication technologies into its smart meters TOKYO- – Mitsubishi Electric Corporation (TOKYO: 6503) announced today that it will globally enhance business relating to smart meters, which are advanced electricity meters with communication functions, in collaboration with its partner Echelon Corporation (NASDAQ: ELON). Mitsubishi Electric will integrate...
Read More »

Used to measure modulated electric fields as well as CW electric fields, FA7000 series Field Analyzers uses isotropic field sensor to sample composite field and transmit its amplitude digitally over optical fiber to processor unit. Sample rate is 1.5 MSPS, enabling accurate measurement of pulsed electric fields in micro-second range. Each kit comprises isotropic field sensor, glass fiber-optic...
Read More »

Designed for broadband measurement of electromagnetic energy, hand-held Model NBM-520 works with calibrated probes covering frequencies from 100 kHz to 60 GHz. Probe types include electric and magnetic field, flat or shaped response, and diode and thermocouple detectors. With supplied software, user can pre-configure meter for specific survey task and manage data required for survey reports....
Read More »
Area Monitor System 2600 provides continuous remote monitoring of electrical and magnetic field strength at 1 or multiple sites. Self-powered outdoor instrument station measures ambient E- or H-field levels then stores and transmits measurement data to remote PCs. Alarm circuitry triggers immediate wireless notification. Solar-powered, weatherproof unit incorporates sensing probe, data...
Read More »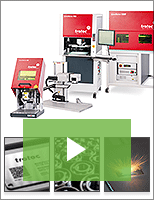 Trotec's laser marking solutions provide your company with configurable workstations and intuitive, customizable software. Check out our video to learn more.
Read More »