Vision and Imaging Sensors / Detectors
ZPS™ Absolute Position Measurement System uses optical sensor technology.
Press Release Summary: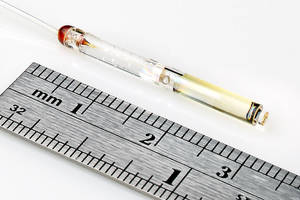 Enabling high-precision measurement and position control in optics, lens positioning system and fine stage controlling applications, ZPS™ Absolute Position Measurement System provides 0.01 nm resolution over 1.2 mm measuring range. Using fiber optic cabling for allowing use of remote sensor location, product can provide measurements on up to 64 synchronized channels. Product is used in scientific, industrial, and medical applications.
---
Original Press Release:
Zygo Corporation Introduces Miniature Optical Position Sensor for High-Precision Motion Sensing and Positioning Applications
Zygo Corporation is pleased to announce the introduction of the new ZPS™ absolute position measurement system with ultra-compact optical sensor technology. The ZPS system enables high-precision measurement and positional control for advanced applications, such as deformable optics, lens positioning systems, and fine stage control.
The ZPS system provides high-precision, non-contact absolute position measurements on up to 64 synchronized channels. Key features include a new ultra-compact optical sensor and hardware platform that delivers superior sensitivity, resolution and stability over a range of 1.2 mm. The advanced optical sensor generates virtually no heat and is insensitive to electromagnetic interference, achieving measurement resolution of 0.01 nm with better than 1 nm/day measurement stability.
In addition, the ZPS system utilizes fiber optic cabling that allows for the use of a remote sensor location without impacting the measurement data. Optional accessories enable realtime automatic compensation for changes in ambient environmental conditions.
"The ZPS system represents the next evolution of sensors for short-range position metrology by combining simplified integration, expandability, reliability and performance into a single system," remarks Ernesto Abruña, Product Manager for Precision Positioning Systems at ZYGO.
"With these unique capabilities, the ZPS system is a great fit for many nano-positioning applications in which closed-loop control across multiple axes of motion is desired, especially in deformable optical components and complex optical systems."
Zygo Corporation, a unit of AMETEK Ultra Precision Technologies Division, is a leading provider of optical metrology solutions, high-precision optics, and optical assemblies used in a wide range of scientific, industrial, and medical applications.
AMETEK, Inc. is a leading global manufacturer of electronic instruments and electromechanical devices with annual sales of approximately $4.0 billion. For more information, contact Zygo Corporation, Laurel Brook Rd., Middlefield, CT 06455-1291 USA. Telephone: +1-860-347-8506. E-mail: inquire@zygo.com Website: www.zygo.com
Contact:
Ernesto Abruña
ZYGO
21 Laurel Brook Rd,
Middlefield, CT 06455-1291 USA
(860) 704-5141,
http://ernesto.abruna@ametek.com
More from Electrical Equipment & Systems