Electrical Sensors / Detectors / Transducers
ZigBee Module enables remote motion control.
Press Release Summary: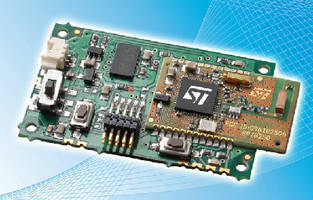 Integrating 3-axis digital-output MEMS accelerometer with ZigBee platform, MotionBee(TM) SPMB250-A1 enables system developers to build wireless sensor networks for remote motion recognition and tracking in healthcare, security, industrial control, and environmental monitoring applications. Measuring 49 x 27 x 5 mm, fully programmable module detects accelerations in selectable range of ±2 g and ±6 g and transmits information to central connection point or every other node in ZigBee wireless network.
---
Original Press Release:

STMicroelectronics Introduces MotionBee(TM) Platform for Remote Motion Control



Geneva, September 28, 2009 - STMicroelectronics (NYSE: STM), a leader in MEMS and wireless technologies, has introduced MotionBee(TM), a complete, ready-for-use platform that combines state-of-the-art motion sensing with ZigBee wireless technology in a single ultra-compact module. Boasting low power consumption and high level of integration, ST's MotionBee enables system developers to quickly and cost-effectively build wireless sensor networks for remote motion recognition and tracking in many different application areas, including healthcare, security, industrial control and environmental monitoring.

The first-generation MotionBee module integrates ST's market-proven 3-axis digital-output MEMS accelerometer with a ZigBee platform from Ember Corporation that includes the EM250 System-on-Chip, a 2.4GHz, IEEE 802.15.4-compliant radio transceiver and processor, together with the EmberZNet PRO(TM) ZigBee networking software. The module detects accelerations in the selectable range of +/-2g and +/- 6g and transmits the information to a central connection point (star topology) or every other node (mesh topology) in a ZigBee wireless network. The module is fully programmable and its small size (49 x 27 x 5 mm) makes the deployment easier, such as in wearable medical or sports equipment.

Addressing specifically the requirements of remote sensing and control systems, ZigBee technology enables the implementation of broad-based wireless mesh networks that are able to run for months on inexpensive primary batteries, representing a viable alternative to costly hard-wired systems. The first-generation MotionBee modules are optimized for designs that require long battery life, a low external component count, and a reliable, proven, industry-standard networking solution.

ST's complete and cost-effective remote motion control platform enables wireless sensor networks in a variety of existing and emerging applications, such as vibration monitoring and detection in different indoor and outdoor environments, automated navigation systems, or bio-sensor networks in remote-healthcare scenarios.

ST's first MotionBee device, the SPMB250-A1, is available now, with samples priced at $60. An evaluation kit is also available, with two pre-programmed modules and a ZigBee dongle for integration with a PC.

About STMicroelectronics

STMicroelectronics is a global leader serving customers across the spectrum of electronics applications with innovative semiconductor solutions. ST aims to be the undisputed leader in multimedia convergence and power applications leveraging its vast array of technologies, design expertise and combination of intellectual property portfolio, strategic partnerships and manufacturing strength. In 2008, the Company's net revenues were $9.84 billion. Further information on ST can be found at st.com.

STMicroelectronics is a Promoter-level member of the ZigBee Alliance, which manages and promotes ZigBee, a standards-based wireless-networking technology that addresses the unique needs of remote monitoring, sensing, and control-network applications.

EmberZNet PRO(TM) software stack, developed by Ember Corporation

MotionBee is a trademark of STMicroelectronics

More from Mechanical Power Transmission