Zero Halogen Cable Markers protect printed paper labels.
Press Release Summary: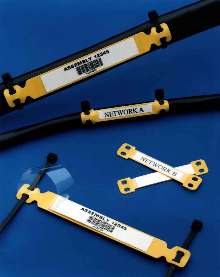 NelcoLAM(TM) Cable Markers offer UV stabilized clear polyester laminate and acrylic adhesive which protects hand written notations and seals to PVC or polypropylene carrier. Attached via 5.0 mm cable ties, markers come in 3 sizes: 2¼ x 5/8 in., 3 1/8 x 5/8 in., and 5 x 5/8 in. Waterproof markers conform to cables to which they are being attached. Service temperatures for PVC and polypropylene are -4 to +176 °F and 14 to 140 °F, respectively.
---
Original Press Release:
Laminated Cable Markers Protect Printed Paper Labels
A new line of zero halogen laminated cable markers that are offered in two materials for a wide range of indoor and outdoor cable marking applications is being introduced by Nelco Products, Inc. of Pembroke, Massachusetts. NelcoLAM(TM) Laminated Cable Markers feature a UV stabilized clear polyester laminate and an acrylic adhesive which protects printed paper labels or hand written notations and seals to a carrier available in PVC or polypropylene versions, depending upon the application. These zero halogen cable markers attach easily using 5.0 mm cable ties and come in three sizes. Supplied in 2-1/4" x 5/8", 3-1/8" x 5/8", and 5" x 5/8" sizes, NelcoLAM(TM) Laminated Cable Markers conform to the cable they are being attached to. Once in place, these markers are waterproof and the polypropylene version is recommended for demanding chemical environments. Service temperature for the PVC is -4°F to 176°F and the polypropylene is 14°F to 140°F. NelcoLAM(TM) Laminated Cable Markers are priced $0.50 ea. for the 2-1/4" x 5/8" version per 100 quantity. Literature, pricing, and free samples are available upon request. For more information contact: Nelco Products, Inc. Michelle Abbondanzio, Marketing 22 Riverside Dr. Pembroke, MA 02359 (800) 346-3526 FAX (781) 826-7344 e-mail: info@nelcoproducts.com www.nelcoproducts.com
More from Software