Zero-Backlash Spring Engaged Brakes offer holding torque of 300 Nm.
Press Release Summary: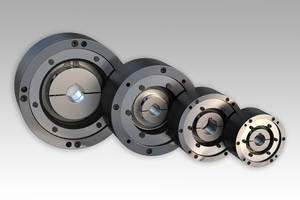 Zero-Backlash Spring Engaged Brakes are offered in 450, 600, 800, 1000 sizes with three standard sizes bore sizes. Units deliver speeds up to 5000 RPM and allow customization of shaft diameters. These ZSE brakes come with integral clamp collar and zero-backlash up to 100% of rated holding torque. Units can be customizable with sensors that provide feedback and data for increasing machine safety and efficiency.
---
Original Press Release:
Nexen Introduces New Zero-Backlash, Spring Engaged (ZSE) Brake Family for Power Transmission and Precision Automation Applications
Nexen Group, Inc., announces the release of the of the Zero-Backlash Spring Engaged (ZSE) brake family. The pneumatically-released ZSE offers high torque, high speed, and zero backlash ideal for holding applications. Unlike brakes using leaf springs to transmit torque, the ZSE is zero-backlash up to 100% of its rated holding torque.
Nexen has released four different sizes (450, 600, 800, 1000) for a wide variety of applications. The bore sizes are available in three standard sizes, and can be easily customized for customer needs.
In addition, Nexen offers an option to configure the ZSE with a smart feature. The ZSES brakes are available with internal sensors, making them ideal for Industry 4.0 compatibility. These sensors provide feedback and data to maximize machine safety and efficiency.
Highlights of the ZSE Brake include:
Speeds up to 5000 RPM
Zero-Backlash up to 100% of rated holding torque
Holding torque up to 300 Nm
Zero-Backlash integral clamp collar
Low inertia
Customizable to wide range of shaft diameters
Cool operation
Compact housing
Optional Smart feature for Industry 4.0 Compatibility
About Nexen Group, Inc.
Our heritage is built on producing technically superior products while providing the highest level of customer support. As a leading manufacturer of precision motion control components, power transmission and web tension control products, Nexen works to remain at the forefront of cutting edge engineering and production excellence. Our production capabilities include computerized control and testing systems, dry cutting applications, special coating processes, over 80 multi-axis precision CNC machine tools and automated assembly. By working with Nexen, our customers experience innovations that adhere to industry specifications, optimize their metrics and provide solutions focused on increased uptime, longer machine life and reduced maintenance. For more information, please visit www.nexengroup.com or call 800-843-7445.
Contact This Company Download Spec Sheet
More from Mechanical Power Transmission