Zero Backlash Couplings offer optimized misalignment capacity.
Press Release Summary: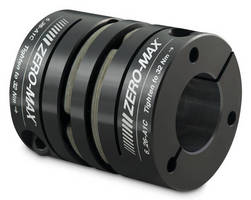 With shaft spacing and clamping system able to accommodate demands of servo motor and motion control applications, Double Flex CD® A1C provides precise positioning under high-speed reversing loads without fatigue for 24/7 operation. Design exhibits torsional stiffness, allows for misalignment in high-stress applications, and provides smooth operation at high speeds. Depending on model, peak torque capacities range from 40–564 Nm with speed ratings from 6,700–15,000 rpm.
---
Original Press Release:

Zero-Max Introduces Double Flex A1C High Performance CD® Couplings - Features Include Higher Misalignment Capacity, Wider Shaft Spacing, and Improved Clamping System



Plymouth, Minnesota: Zero-Max's Double Flex A1C high performance CD®couplings provide higher misalignment capacity than the Single Flex model. They have wider shaft spacing and improved clamping system, making them ideal for today's most demanding servo motor and motion control applications.



The Double Flex CD A1C coupling provides precise positioning under high speed reversing loads without fatigue for reliable 24/7 operation.The patented CD coupling design has high torsional stiffness, yet allows for misalignment in high stress applications. In addition, these zero-backlash couplings are excellent for reversing loads and provide smooth operation at high speeds. The unique design is compact to allow for a smaller assembly - enabling a smaller machine footprint.



Engineered with improved clamp style hubs for handling larger shafts and higher torque, the Double Flex CD A1C clamp style hub design provides superior shaft engagement. Shafts have increased clamping strength, eliminating the need for keyways for a cleaner, better balanced design.



All CD A1C components are made of premium materials:

• Precision machined hubs are made from ISO grade 7075-T6 aluminum.

• Hubs are black anodized to MIL-A-8625 Type 2, Class 2 finish.

• Recessed fasteners are ISO 4762 grade 12.9 socket head cap screws.

• Unique, composite disc made of high precision composite material that is manufactured to strict aerospace and Six Sigma practices. This material has excellent chemical and moisture resistance.

• Eco-friendly materials with no banned substances according to RoHS directive.



Combining high performance design features, materials and precision, these A1C Couplings are precise, robust and available in six sizes. Peak torque capacities range from 40Nm to 564Nm with speed ratings from 6700 RPM to 15,000 RPM depending on model.



See at: www.zero-max.com



Or call for FREE brochure, 1-800-533-1731. Outside US and Canada, call 763-546-4300.



Email: zero-max@zero-max.com



Zero-Max

13200 Sixth Avenue North

Plymouth, Minnesota 55441-5509

Fax: 763-546-8260

More from Sensors, Monitors & Transducers