Z Axis SMD Ferrite Antenna targets slim smartphone designs.
Press Release Summary: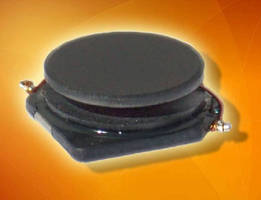 Measuring 10 x 10 x 3.1 mm, ZC1003HF Series is based on NFC technology and supports signal reception/transmission at 13.56 MHz with inductance of 2.5 µH. Unit includes NiZn ferrite core material (>106 Ω•m) and provides stable performance in temperatures from -40 to +100°C. Surface mount and tape and reel packaging configuration allows integration in automated printed circuit board assembly process, avoiding handling of piece that could damage winding wire.
---
Original Press Release:

High Sensitive NFC Z-axis Low Profile Antenna



Due to its compact dimensions and low profile (height less than 3,2mm), the new ZC1003HF Series, based on NFC technology, is ideally suitable for slim Smartphone designs improving communication distance, due to its high performance material. Enhanced efficiency over ground metal planes or batteries.



Near Field Communications (NFC) market is growing rapidly worldwide. Global shipments of cellphones equipped with Near Field Communication (NFC) technology will surge by more than a factor of four from 2013 to 2018, reaching 1.2 billion units, according to IHS Technology.



One of the most extended NFC applications is cashless payment but it is increasingly being used in applications such as, physical access, driver identification, keyless entry systems, peer-to-peer file sharing, and credential storage & exchange.



In an effort to meet the growing demands for NFC antennas, PREMO has developed a new Z axis SMD ferrite antenna suitable for signal´s reception/transmission at 13,56MHz.



ZC1003HF series is a highly sensitive and compact solution (10x10x3.1mm) specially designed for those NFC applications where size of components is critical. This innovative antenna requires less board space compared with PCB printed loop antennas and offers up to 30% longer reading distances. Furthermore, this Z-axis coil's design offers an outstanding electrical performance and mechanical robustness, providing an excellent reliability, as they are designed and validated with automotive standards.



ZC1003HF series is offered with 2,5µH/13,56MHz inductance value and can be taylored according to customer's specifications.



The antenna includes a high performance NiZn ferrite core material (>106 Ohm•m) and low initial permeability to work at high frequency. It provides a very stable performance in a wide range of temperature (-40ºC to +100ºC). Additionally, ZC1003HF series offers better performance over metal parts ground planes or batteries devices.



Its surface mount (SMD) and tape and reel packaging configuration allows an easy integration in an automatic printed circuit board assembly process, avoiding handling of the piece that could damage winding wire of the piece.



ZC1003HF can be used in RFID applications with ISO15693 (vicinity: I-CODE), ISO 14443A&B (proximity: MIFARE) interface, ISO18092, and Felica.



The product has been designed to match NFC chipsets from NXP: MF-RC500, MF-RC530, MF-RC531, PN511, PN512, PN531, PN532, PN533, PN544, PN547; AMS: AS3953; ST: M24LR16E-R,  MELEXIS: MLX90121, Texas Instrument: TRF7960, TRF7970A.



PREMO offers free samples for such NFC designer kit users.

PREMO enlarges its NFC antennas product range (including previous SDTR1103-HF2 and 3DC15-HF series), with this innovative Z-axis coil that is ready for mass production. The antenna is RoHS compliant and meets the requirements of the NFC standard.



• Download this product datasheet.

• Request this product.

• PREMO NFC coils product range



PREMO

PREMO is a Spain-based company engaged in the development, manufacture, and sale of electronic components with special focus on the growing market of H&EV, Smart Metering and market segments including automotive, telecommunications, and industrial electronics. Our product portfolio includes NFC & RFID antennas (worldwide leader), power transformers, inductors & chokes, current sensors, EMC filters, PLC components and accessories. In addition to our broad range of standard components, off-the-shelf products, PREMO designs custom solutions to fit customer requirements.

More from Electrical Equipment & Systems