York EcoAdvance meets ASHRAE standards.
Press Release Summary: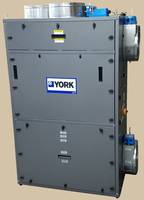 Suitable for retrofit applications on existing HVAC systems, York EcoAdvance can be installed vertically or horizontally. Featuring built-in electronics and software and IoT connectivity, unit is equipped with HVAC Load Reduction. Reducing HVAC system water consumption and improving air quality, product uses smart sensors for monitoring system performance and air quality inside building.
---
Original Press Release:
All-New YORK® EcoAdvance™ Takes Unique Energy-Savings Approach to Air Purification and Ventilation​
Revolutionary technology enables significant first-cost savings and higher efficiency HVAC systems
Johnson Controls introduces its all-new YORK® EcoAdvance™ module, a game-changing solution that captures and removes molecular contaminants from indoor air while intelligently managing the flow of outside air into a building. This process substantially reduces heating, ventilation and air-conditioning (HVAC) peak loads by more than 40 percent, resulting in an average of 20-40 percent annual energy cost savings. The YORK EcoAdvance is powered by HVAC Load Reduction (HLR) technology, which won the prestigious 2016 R&D 100 Award, an international competition that recognizes the most technologically significant products introduced over the past year.
The revolutionary EcoAdvance module is easy to install in conjunction with air handling units, energy recovery ventilators or rooftop units. It minimizes the amount of outside air necessary to maintain air quality, while meeting and exceeding the requirements for ASHRAE Standard 62.1 – Ventilation for Indoor Air Quality (IAQ). The technology's intelligent, self-cleaning operation automatically removes contaminants from the building via exhaust and uses smart sensors to continuously monitor system performance and air quality inside a building.
Historically, customers have had to pay more for higher energy efficiency HVAC systems, but YORK EcoAdvance turns this upside down. When installed at a large corporation's headquarters, HLR technology enabled a $200,000 savings in HVAC equipment, while increasing the energy efficiency of its existing systems, reducing HVAC system water consumption, and improving air quality. Similarly, HLR technology helped a nationally recognized university's fitness center achieve energy consumption savings of 28% and peak savings over 40%, while improving IAQ measurements of CO2, VOCs and formaldehyde.
The York EcoAdvance can help buildings achieve U.S. Green Building Council Leadership in Energy and Environmental Design (LEED®) status. A Fortune 10 technology company implemented HLR technology and earned 14 LEED points by leveraging the Indoor Air Quality Performance pilot credit (EQpc68) and energy efficiency credits. EcoAdvance is also eligible for utility rebates where applicable, making retrofits to existing HVAC systems an attractive opportunity.
EcoAdvance features built-in electronics and software, including networking for Internet-of-Things (IoT) connectivity, that are engineered to control, record and report all aspects of the HVAC load reduction system operation 24/7. Customers can verify savings, monitor IAQ, and remotely configure and control the system using a computer, tablet, or smart phone. In addition, sophisticated proprietary algorithms are designed to maximize energy savings, and BACnet enables integration with building automation systems (BAS).
EcoAdvance is suitable for both new construction and equipment replacement projects, where it can enable downsizing of equipment, and retrofit applications on existing HVAC systems. A network of multiple modules offers a scalable and flexible solution for any building. The lightweight modules, which can be installed vertically or horizontally, fit through standard doorways, require minimal maintenance and deliver a 20-plus-year operating life. EcoAdvance is backed by YORK, Johnson Controls service, warranty and support.
Learn more about this one-of-a-kind commercial solution at the 2017 AHR Expo in booth C3124.
For additional information, contact a Johnson Controls representative at www.johnsoncontrols.com/location-finder or visit www.york.com/ecoadvance.
About Johnson Controls:
Johnson Controls is a global diversified technology and multi industrial leader serving a wide range of customers in more than 150 countries. Our 130,000 employees create intelligent buildings, efficient energy solutions, integrated infrastructure and next generation transportation systems that work seamlessly together to deliver on the promise of smart cities and communities. Our commitment to sustainability dates back to our roots in 1885, with the invention of the first electric room thermostat. We are committed to helping our customers win and creating greater value for all of our stakeholders through strategic focus on our buildings and energy growth platforms. For additional information, please visit http://www.johnsoncontrols.com.
About Johnson Controls' Building Technologies & Solutions
Johnson Controls' Building Technologies & Solutions has an unmatched portfolio of HVACR products and solutions to create more comfortable, safe and efficient buildings. Operating in more than 150 countries through a strong network of distribution channels, Building Technologies & Solutions' breadth of offerings help building owners, operators, engineers and consultants impact the full lifecycle of a building. Its market leadership is established through trusted brands such as YORK®, Sabroe® and Metasys® as well as its smart building integration capabilities and energy financing solutions. For more information, visit www.johnsoncontrols.com.
Johnson Controls: http://www.johnsoncontrols.com
Johnson Controls Building Technologies and Solutions, 5757 N. Green Bay Ave. P.O. Box 591, Milwaukee, WI 53201 United States
Contact:
Ryan Nolan
Public Relations Program Manager
Johnson Controls, Building Technologies & Solutions
Work + 1 414 524 6170
Mobile + 1 414 378 9641
More from Electronic Components & Devices