Yale Wins Gold Again with Product of the Year Award for MX Series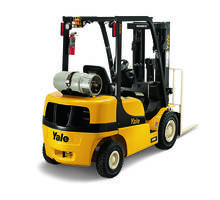 GREENVILLE, N.C. (April 19, 2018) – Now in its 30th year, Plant Engineering's annual Product of the Year award recognizes the latest manufacturing innovations that help businesses achieve greater performance. The durable, versatile Yale GP040-060MX pneumatic tire lift truck emerged as the ultimate solution in the materials handling systems category, taking home the gold. 

With an extensive options list resulting in over a trillion possible configurations, the Yale MX offers the versatility to tackle the demands of a wide range of industries and applications. It includes ergonomic and technologically advanced features, developed based on years of operator feedback, intended to keep operators comfortable and productive all shift long. 

"This recognition is a great honor and reflects the capability of the Yale MX to be the tool customers need to reach new levels of efficiency and performance," says Chris Murtha, Brand Manager, Yale Materials Handling Corporation. "Whether keeping shelves stocked or ramping up manufacturing output, the MX is up to the challenges of today's supply chain, and Plant Engineering readers recognize that." 

In addition to exceptional ergonomics and configurability, the MX outperforms the competition in three key areas. Independent, third party testing revealed the MX uses 14.4 percent less fuel, moves 6,000 more loads over 2,000 hours of operation and delivers 20.4 percent more power. The MX also offers substantial cost savings in periodic maintenance and replacement parts.

To access a high-res image, click here.

The Yale MX series wins gold in @PLantEngMag's Product of the Year award competition! bit.ly/2HJw8ne

About Yale Materials Handling Corporation 
Yale Materials Handling Corporation markets a full line of materials handling lift truck products and services, including electric, gas, LP-gas and diesel powered lift trucks; narrow aisle, very narrow aisle and motorized hand trucks. Yale has a comprehensive service offering including Yale Vision wireless asset management, fleet management, Yale service, parts, financing and training. Yale® trucks are manufactured in an ISO 9001:2008 registered facility and range in capacity from 2,000 to 36,000 lbs.
 
Yale Materials Handling Corporation is a division of Hyster-Yale Group, a wholly owned subsidiary of Hyster-Yale Materials Handling, Inc. (NYSE:HY).  Hyster-Yale Materials Handling, Inc. and its subsidiaries, headquartered in Cleveland, Ohio, employ approximately 6,800 people world-wide. 
Company Contact:
Jennifer Timblin
Yale Materials Handling Corporation
252-931-5747
jennifer.timblin@hyster-yale.com
 
Media Contact:
Dan Gauss
Koroberi
336-409-5391
dan@koroberi.com
 
More from Machinery & Machining Tools