XT Traffic Box Lock Can Retrofit into Existing Hardware
Press Release Summary: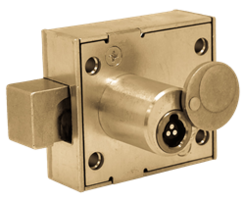 The new XT Traffic Box Lock from Medeco Security Locks offers protection for traffic light hardware. The lock boxes is able to be retrofitted to existing hardware, reducing the need for modifications, and also requires no wiring work. It is an addition to Medeco's XT Intelligent Key System.
---
Original Press Release:
Medeco Unveils the XT Traffic Box Lock
Medeco Security Locks, a division of ASSA ABLOY N.A., located in Salem, Va., has announced a new addition to its XT Intelligent Key family of products—introducing the Medeco XT Traffic Box Lock. 
The Medeco XT Traffic Box Lock helps secure our critical infrastructure. "Cyber-attack is a constant threat today," said Gene Cronin, Medeco XT product line manager. "All across America, the flow of traffic in our cities is regulated by Intelligent Traffic System (ITS) boxes that are located on every street corner. ITS boxes protect the hardware that controls the traffic lights. A simple retrofit lock solution like the Medeco XT Traffic Box Lock is the quickest, most cost-effective way to add the accountability necessary to help eliminate tampering, and to help secure the advanced equipment contained within these cabinets."
Medeco XT Traffic Box Lock Features: 
Retrofit into existing hardware—no modifications required
No wiring required—all power provided by the key
Part of the XT Intelligent Key System:
        -    Audit Accountability 
        -    Electronic Scheduling 
        -    Physical Security 
        -    Visual Audit
About the Medeco XT System: 
Medeco XT is a complete electronic locking system providing controlled access, accountability, physical security, and system management. More than just a way to protect your property, equipment and assets, Medeco XT is also a business tool that can lead to a substantial return on investment. Medeco XT products add a wide variety of intelligent features without compromising on physical security. Attack-resistant design and tamper-proof features provide strong protection against forced entry.
About Medeco: 
Founded in 1968 and based in Salem, Va., Medeco is a market leader in mechanical and electronic locks and locking systems for security, safety, and control. The company's customer base includes wholesale and retail security providers, original equipment manufacturers, and institutional, commercial, industrial, and residential end-users. Visit http://www.medeco.com for additional information.
About ASSA ABLOY: 
ASSA ABLOY is the global leader in door opening solutions, dedicated to satisfying end-user demands for security, safety and convenience. For more information, visit http://www.assaabloy.com
Related