XRF Analyzer has small-spot focus capabilities.
Press Release Summary: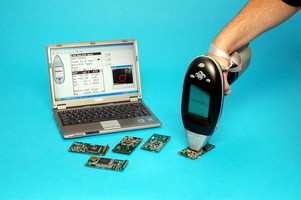 Designed for analysis of small samples, NITON XLt 797X portable analyzer is used for on-site testing and identification of polymers, solders, and individual electronic components for RoHS, ELV, and WEEE compliance screening. With miniature x-ray tube technology and internal color video camera, product also includes test stand, NDT remote control, and video tracking software.
---
Original Press Release:

Thermo Adds Revolutionary Small-Spot Focus Capabilities to its Industry-Leading NITON Portable XRF Analyzer for RoHS Compliance



Billerica, MA (October 9 2006) - Thermo Electron Corporation, world leader in analytical instrumentation, announces the release of its new NITON XLt 797X portable analyzer. Achieving revolutionary small sample analysis capability, this XLt 797X portable analyzer has been designed to meet the increasingly challenging needs of customers in the electronics industry.

Featuring a significantly smaller sample analysis capability than any previous portable x-ray fluorescence (XRF) analyzer, Thermo's NITON XLt 797X portable analyzer incorporates proprietary new miniature x-ray tube technology plus an internal color video camera. Thermo's new NITON XLt 797X analyzer with small-spot focus technology can rapidly identify and analyze individual electronic components for RoHS compliance that until now could only be analyzed with stationary benchtop equipment. The NITON XLt 797X will assist Original Equipment Manufacturers (OEMs), Contract Manufacturers (CMs) and other industry partners, to comply with the recently implemented RoHS restrictions on the use of toxic materials in electronic and electrical equipment.

July 1 2006 marked the effective date of EU Directive 2002/95/EC, "Restriction of Hazardous Substances (RoHS)." The RoHS directive specifically "prohibits importation into the European Union of any new electrical and/or electronic equipment put on market after July 1 2006 made of homogeneous materials containing more than 100 parts per million (ppm) of cadmium (Cd), or more than 1000 parts per million (ppm) each of mercury (Hg), lead (Pb), hexavalent chromium (Cr+6), polybrominated biphenyls (PBBs) and polybrominated diphenyl ethers (PBDEs)."

Thermo's NITON XRF Analyzers is the world's leading manufacturer of portable XRF analyzers. Thermo's NITON XLt 797X portable analyzers are used worldwide for rapid, on-site testing of polymers, solders and electronic components for RoHS, ELV and WEEE compliance screening. On-site testing results in more extensive and more representative sample analysis. This increased testing greatly reduces companies' regulatory compliance risks.

Thermo's small sample measurement technology enables users to isolate and analyze solder joints and small components, on populated printed circuit boards (PCBs) as well as other heterogeneous materials, with the same element detection limits and rapid measurement times. This has made NITON Analyzers the industry leader, with over a thousand units in use for RoHS compliance testing. Thermo's NITON XLt 797X portable analyzer incorporates the first ever camera available in a portable XRF analyzer. This allows users to pinpoint where they want to measure and record images together with the chemical analysis of the individual components they measure.

Like Thermo's other handheld NITON XRF RoHS compliance analyzers, the XLt 797X portable analyzer provides rapid screening of metals, polymers and components at the loading dock, in the warehouse, during product assembly and at vendor sites. Combined with its standard accessory, test stand, industry leading NDT remote control and video tracking software the XLt 797X portable analyzer offers the same performance and functionality as much larger and more expensive benchtop XRF units. Thermo's automated calibration and state-of-the-art software also makes the NITON XLt 797X portable analyzer straightforward and easy to use. The result is the most versatile, most advanced portable XRF instrument ever designed for RoHS compliance. Thermo's NITON 797X analyzer is available for on-site demonstration at the beginning of September 2006 and is available for mid-October 2006 delivery.

For further information on Thermo's range of portable NITON XRF Analyzers, please call toll-free 1-800-875-1578 or +1 978-670-7460, email niton@thermo.com or alternatively, visit www.thermo.com/niton

About Elemental Analysis
Thermo Electron Corporation is a leader in energy dispersive x-ray fluorescence (EDXRF), wavelength dispersive x-ray fluorescence (WDXRF), x-ray diffraction (XRD), atomic absorption spectroscopy (AAS), optical emission spectroscopy (OES), inductively-coupled plasma spectroscopy (ICP-OES), inductively-coupled plasma mass spectroscopy (ICP-MS) and combustion elemental analysis. For rapid, accurate elemental analysis of a wide range of sample types including solids, powders and liquids, Thermo's elemental analysis systems are used in a wide range of applications in environmental testing, pharmaceutical, semiconductor, food and beverage, petrochemical, aerospace and metals and mining. Thermo's elemental analysis products include handheld mobile, desktop, laboratory and automation on-line instruments. For more information, visit www.thermo.com/elemental

About Thermo Electron Corporation
Thermo Electron Corporation is the world leader in analytical instruments. Our instrument solutions enable our customers to make the world a healthier, cleaner and safer place. Thermo's Life and Laboratory Sciences segment provides analytical instruments, scientific equipment, services and software solutions for life science, drug discovery, clinical, environmental and industrial laboratories. Thermo's Measurement and Control segment is dedicated to providing analytical instruments used in a variety of manufacturing processes and in-the-field applications, including those associated with safety and homeland security. For more information, visit www.thermo.com

More from Construction Equipment and Supplies