XRCED Series Crystal Unit offers ± 20 ppm frequency tolerance.
Press Release Summary: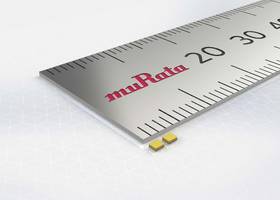 Incorporating unique technology, XRCED Series Crystal Unit provides low ESR. Operating in -30 to 85°C temperature, unit offers 60 ohms maximum ESR and 100 mW drive level. Meeting RoHS standards with XRCED37M400FXQ52R0 part number, unit allows lead free soldering. Products are used in smartphones, wearables, and hearing aids.
---
Original Press Release:
Ultra-Compact Crystal Unit Preserves ESR Characteristics Normally Lost When Miniaturised
Murata has introduced the world's smallest high precision crystal unit for use in mobile equipment and modules that use wireless technology such as Wi-Fi and Bluetooth, the XRCED series.
The boom in equipment using wireless communications such as Wi-Fi and Bluetooth has driven the need for smaller components for use in such equipment including smartphones, wearables, and hearing aids. Murata's XRCED series crystal unit includes a unique technology that provides excellent low equivalent series resistance (ESR), and by decreasing the size of its previous crystal unit to a miniscule 1.2 x 1.0 mm, the new product contributes greatly to size reduction for mobile equipment and modules.
With most crystal units, ESR worsens when the vibrating area of a crystal is restricted due to the effects of miniaturisation. However, Murata has achieved very favorable ESR values by using a special packaging technology and high precision assembly. Normally the package is made low-profile to reduce the size of the crystal unit, but that leads to deformation of the package, and seal breakage. Accordingly, Murata uses a structure that distributes stress at the time of moulding and hence assures dielectric strength.
Conforming to RoHS regulations, the 37.4MHz XRCED37M400FXQ52R0 crystal unit is lead free (phase 3) and allows lead-free soldering. The component offers a frequency tolerance of +/- 20 ppm across a temperature range of -30 to 85 °C. The maximum ESR is 60 ohms and the drive level is 100 microwatts maximum.
Exhibiting fine pedigree, following the production of its XRCGB series crystal unit in 2009, Murata launched the XRCMD series 1.6x1.2 mm in 2014 with a frequency precision of +/-20 ppm for use in small wireless devices (Wi-Fi and Bluetooth®). Now, with its latest XRCED series, Murata has taken the performance and miniaturisation of crystal units for portable wireless applications to a new, world beating level.
About Murata
Murata is a leading manufacturer of electronic components, modules, and devices. The complete range of this Technology house includes ceramic capacitors, resistors/thermistors, inductors/chokes, timing devices, buzzers, sensors and EMI suppression filters. Whilst the company is known as a global ceramic capacitor manufacturer, it is also the world leader in Bluetooth® & WiFi™ Modules, the world's no.1 manufacturer of board-mount DC-DC converters and is a key manufacturer of standard and custom AC-DC power supplies. Established in 1944, Murata is headquartered in Japan and has European offices in Finland, France, Germany, Hungary, Italy, the Netherlands, Spain, Switzerland and the UK.
For further information and reader enquiries:
Aya Tonooka, Murata Europe Limited. One Fleet, Ancells Business Park, Ancells Road, Fleet, Hampshire, GU51 2UN, United Kingdom
Tel: +44 (0) 1252 811666
E-mail: atonooka@murata.com
Fax: +44 (0) 1252 811777
Web: www.murata.com
More from Agricultural & Farming Products