XPG SX6000 PCIe Gen3x2 M.2 2280 SSD Drives meet NVMe 1.2 specifications.
Press Release Summary: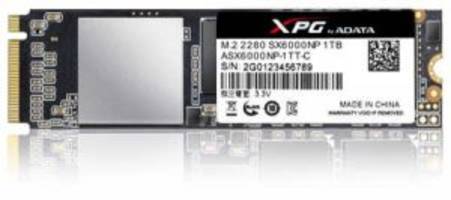 XPG SX6000 M.2 2280 SSD Drives are offered in 128, 256, 512GB and 1TB capacities. Units offer wear leveling, DRAM cache and SLC caching and are suitable for moving AAA game titles or rendering video. Products provide 1,000MB/s read and 800MB/s write and suitable for gamers, overclockers, and PC DIY applications. XPG SX6000 features 3D TLC NAND controller and PCIe Gen3x2 interface.
---
Original Press Release:
Adata XPG SX6000 PCIe Gen3x2 M.2 2280 SSD With Realtek Controller
128, 256, 512GB and 1TB, 1,000MB/s and 800MB/s RW speed Adata Technology Co Ltd. launched the XPG SX6000 SSD.
This product represents a bold move to provide PCIe storage performance for nearly the same price to end users as that of traditional 2.5" SATA SSD. The SX6000 uses the compact M.2 form factor and reaches 1,000MB/s read and 800MB/s write, doubling SATA SSD throughput without a relative increase in price. This is part of an company's focus on high speed, compact M.2 drives aimed at gamers, overclockers, and PC DIY enthusiasts. The SX6000 meets NVMe 1.2 specs and offers up to 1TB capacity, all at an approachable entry-level alongside its more premium stablemates the SX7000, SX8000, and SX9000. T
wice speed without need to spend more
The advantage of the SX6000 is embodied in its cost-performance ratio. Using 3D TLC NAND, a Realtek Semiconductor Corp. controller, NVMe 1.2 technology, and a PCIe Gen3x2 interface, it reaches 1000MB/s read and 800MB/s write. Compared to a typical 500MB/s by 400MB/s on SATA III SSDs, this means doubled performance for less than 10% more spend in same-capacity comparisons. Increasingly, motherboards ship with two and four M.2 slots, up from a single slot on select boards just two years ago. Therefore, PCIe M.2 SSDs are expected to become more normative and the SX6000 encourages this trend as an affordable high speed alternative that works as an OS drive and mass storage.
Upgrade or alternative in multiple capacity options
The company produces the SX6000 in 128, 256, 512GB, and 1TB. Each model is less than 10% costlier than a same-capacity 6Gb SATA SSD. For PC users looking at tangible performance enhancements, it makes complete sense as a 6Gb SATA successor.
Feature rich and designed for long-term use
The SX6000 incorporates the usual range of performance and longevity-enhancing features shared by all firm's and XPG SSDs. Wear leveling, DRAM cache, and SLC caching all ensure better load distribution and sustained peak performance even when handling large tasks such as moving AAA game titles or rendering video. While other PCIe M.2 SSDs may be faster, the SX6000 surpasses SATA SSDs and of course leaves HDDs far behind, being ten times faster than the quickest mechanical solution.
Related