XMC Module supports PCIe and PCI-X interfaces.
Press Release Summary: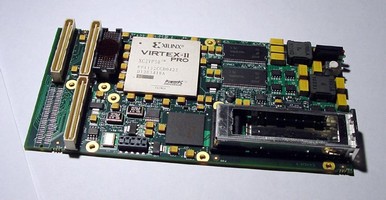 Based on VITA 42.3 XMC form factor, Model V1020 Intelligent 10 GbE XMC Module supports VxWorks and Linux operating systems. When combined with high-end embedded computing systems, module provides 10 GbE packet processing at line-speed for applications such as Signal Intelligence (SIGINT), Radar/Sonar, Electronic Warfare (EW), and wireless infrastructure.
---
Original Press Release:

AdvancedIO(TM) Announces First Intelligent 10GbE XMC Module with Support for PCI Express®



Vancouver, BC - August 29, 2006 - AdvancedIO Systems, Inc., the market leader in
configurable, 10 Gigabit Ethernet (10GbE) connectivity and packet processing solutions for the embedded computing market, announced the release of the V1020 Intelligent XMC
Module, AdvancedIO's next generation 10GbE module with PCI Express® (PCIe) support.

Building on the success of the V1010 module, the V1020 is the industry's first intelligent XMC mezzanine module that offers the advantages of PCIe, including greater system scalability, bandwidth and ease of programmability. When combined with high-end,
embedded computing systems, such as VMETRO high-performance, signal processing
solutions, the V1020 provides 10GbE packet processing at line-speed, for applications such as Signal Intelligence (SIGINT), Radar / Sonar, Electronic Warfare (EW), and Wireless Infrastructure by offloading various critical system processes such as: UDP Acceleration, Deep Packet Inspection, Link Load Balancing, UP/Down conversation,
Encryption/Decryption and FFT - resulting in increased system performance and higher
system density.

"The release of the V1020 confirms AdvancedIO's commitment to maintaining a leadership
role in intelligent 10GbE packet processing solutions", said David Barker, VP Business
Development at VMETRO. "The demand for 10GbE continues to increase in our customer
base. VMETRO's high-performance embedded processing and data recording products
coupled with the V1020 will provide our customers with very high-performance 10GbE
solutions. We are extremely excited, based on our continued partnership with AdvancedIO, to be able to satisfy our customers' demand for these types of solutions."

KEY FEATURES:
o Based on VITA 42.3 XMC form factor
o Supports PCIe and PCI-X interfaces
o Supports VxWorks and Linux Operating Systems
o 10GbE packet processing at line speed
o Includes UDP Acceleration

ORDERING INFORMATION:
Part Number 300-01005

AdvancedIO is the market leader in configurable 10GbE connectivity and packet processing solutions for the embedded computing market. AdvancedIO's product family provides outstanding packet processing performance in conjunction with application flexibility, a feature that is lacking in fixed-functionality NICs. Furthermore, AdvancedIO enhances overall system performance beyond what current NPU-based systems can achieve, which makes them ideal for emerging high-performance military/aerospace and telecom applications. AdvancedIO is a privately held company established in 2004 and is located in Vancouver, Canada. For more information, please visit www.advancedio.com.

FOR ADDITIONAL INFORMATION ABOUT THIS PRODUCT AND THIS PRESS RELEASE
PLEASE CONTACT:
Jeff Hrytzak
Business Development Manager
AdvancedIO Systems, Inc.
Phone: 604-331-1600
Fax: 604.331.1800
Email: jhrytzak@advancedio.com

More from Software