Xintex® Methane Gas Detector System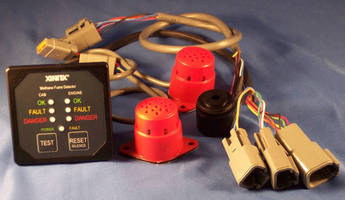 Fireboy®-Xintex® Inc. offers the Xintex® Methane Gas Detector for the commercial trucking industry, particularly heavy duty trucks such as Class 6, 7 and 8, local delivery and Refuse trucks. This methane gas detector is designed for "green", environmentally friendly alternative fuel vehicles and is incorporated into the design and re-design of vehicles using CNG (compressed natural gas) and LNG (liquefied natural gas) for fuel. Heavy duty truck manufacturers are developing CNG and LNG vehicles to save on fuel costs and reduce pollution.

Methane is produced by the CNG and LNG fueled engines and is a potentially life-threatening and explosive by-product. With the Xintex Methane Gas Detector, the methane level is constantly monitored with both a visual and an audible alarm, which is sounded at 50% L.E.L. Features include multi-colored L.E.D.'s of green, yellow and red to indicate functionality, operational status and danger, a test function button and a reset button.

For more information contact Fireboy®-Xintex® Inc., O-379 Lake Michigan Drive N.W., Grand Rapids, MI 49544. Telephone: 616-735-9380, Fax: 616-735-9381. Website: www.fireboy-xintex.com, E-mail: [email protected].