Xenetech Color Touch Screens Retrofit-able to Older Rotary and Laser Engravers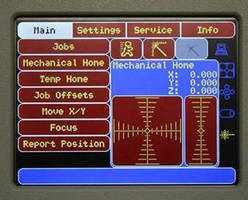 Baton Rouge, La. - Xenetech Global, Inc., a leading manufacturer of laser and mechanical engraving and cutting systems, has announced that owners of older technology engravers can upgrade to Xenetech's color touch screen. Xenetech ships all new rotary and laser systems with color touch screens, but owners of older monochrome touch screens in lasers and rotary pendants can upgrade to color. The color touch screen enables users to locate job files within the host hard drive and network; preview, pan, and zoom in on the job before engraving; as well as have complete control of the job's execution at their fingertip. The Xenetech touch screen has on-the-fly speed and power control, re-engrave commands, multiple auto focus settings, maintenance settings and monitoring, point to an area and engrave placement, and many other features. The color touch screen also provides a host of new enhancements including: increased touch responsiveness and command execution speed, improved contrast and visibility, the ability to set and return to a soft or temporary home position, the ability for users to modify the screen buttons, and detailed previews of dithered and grey scale bit maps.

To find out if your rotary or laser system is upgradeable, contact your Xenetech area distributor or Xenetech at 225-752-0225 or sales@xenetech.com for more information.

Xenetech develops and manufactures a full line of computerized rotary engraving systems, laser engraving systems, and professional engraving software for the recognition, sign, rubber stamp, jewelry, gift, and industrial marking industries. Established in 1986, the company is based in Baton Rouge, Louisiana and maintains a global distribution network. For more information about the new color touch screen or Xenetech's family of engraving products, browse their website at www.xenetech.com or call them at 225-752-0225.