DC to AC Power Supplies (Inverters)
Xantrex Expands the Freedom X Family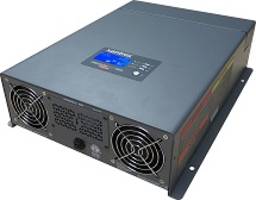 Burnaby, British Columbia, Canada – Sept. 17, 2018 – (Marine NewsWire) Last year, Xantrex celebrated 25 years of the legendary Freedom inverter by launching a new series called Freedom X. The Freedom X has become a popular choice for boaters in a short span of time. Xantrex has now added a new product to this series – Freedom X 3000, a 3000-watt pure sine wave inverter with built-in 30A transfer relay. The Freedom X 3000 delivers full output up to 40°C/104°F with a 2-second surge of 6000 watts. The Freedom X 3000 features a large wiring bay with quick-connect AC terminals for fast, reliable and easy wiring. In the aftermarket, the Freedom X 3000 is a perfect addition to a boat that already has a standalone battery charger in good working condition.
The Freedom X 3000, like other members of the Freedom X family is certified to UL458 with marine supplement and meets FCC, Class B and ABYC standards. It is also tested for environmental stresses, moisture and corrosion resistance using HALT and SALT-&-FOG chambers. The inverter can be hardwired or installed with an optional GFCI outlet.
The suggested retail price for the FREEDOM X 3000 is $950.00 USD.
For more information, contact Mitul Chandrani at mitul.chandrani@schneider-electric.com.
About Xantrex
The Xantrex brand, owned by Schneider Electric, is one of the most successful and popular brands of onboard AC power technology. Xantrex products are used in a variety of applications in the RV, marine, military, construction, EMS, bus, work service vehicle and commercial truck markets. Xantrex ensures its products are put through extensive reliability testing and certifies its products to comply with various regulatory standards to meet or exceed the applicable requirements for safety, quality, efficiency and environment. With more than three decades of design, engineering and manufacturing experience backed by Schneider Electric's global infrastructure, Xantrex power solutions offer an enviable mix of advanced technology and unmatched bankability.
About Schneider Electric
As a global specialist in energy management with operations in more than 100 countries, Schneider Electric offers integrated solutions across multiple market segments, including leadership positions in energy and infrastructure, industrial processes, building automation, and data centers/networks, as well as a broad presence in residential applications. Focused on making energy safe, reliable and efficient, the company's 170,000 plus employees achieved sales of 25 billion euros in 2014, through an active commitment to help individuals and organizations "Make the most of their energy."
Related