Press Release Summary: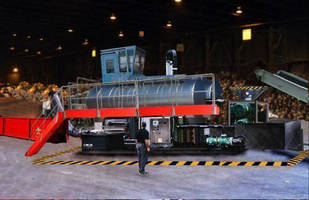 X
---
Original Press Release:

Ecologico-Logic Launches Revolutionary, Environmentally Friendly, Waste Reduction System Known as "The Muncher"®



Aerobic Digester Uses Patented Mechanical, Chemical and Biological Processes to Convert Solid Waste into Revenue-Generating, Nutrient-Rich Compost in Less Than One Hour

LOS ANGELES, -- Ecologico-Logic, Inc., a Nevada-based green technology company, has unveiled a prototype of a state-of-the-art waste reduction system - known as "The Muncher"®- that is far faster, greener and more cost-effective than any waste management technology currently in use. Its primary purpose is to reduce the weight and volume of all organic and many types of inorganic waste. The Muncher® achieves its high-volume throughput by combining superior mechanical efficiency with powerful, naturally occurring, aerobic (oxygen-breathing) microorganisms in a patent-protected process that greatly accelerates waste digestion while doing no damage to the environment.

To view the multimedia assets associated with this release please click: http://multivu.prnewswire.com/mnr/ecologicologic/50934/

The Muncher® offers several distinct advantages over existing waste disposal systems:

-- FASTER - It turns organic solid waste into nutrient-rich plant food in
less than one hour; traditional composting can take 45 days to one year
-- GREENER - It produces no toxic gases, hazardous compounds or foul odors;
will not pollute landfills or aquifers
-- MORE EFFICIENT - It reduces the actual volume of solid waste by 75 to 80
percent; one ton of garbage is downsized to approximately 600 pounds of
solid cake mulch and liquid effluent; provides higher recycling rates
than more conventional waste reduction methods
-- MORE COST-EFFECTIVE - It extends useful life of dwindling landfills by
seamlessly integrating into daily transfer station and landfill
operations; saves money on tipping and transportation fees, shrinks
carbon footprints
-- MORE PROFITABLE - It goes beyond just lowering costs by transforming the
solid waste disposal process into a revenue-generating composting
business

"We think this new technology is a game-changer," says Mohammed Memon, Ecologico-Logic's chief operations officers and co-founder. "It has the potential to completely transform the 50-billion-dollar-a-year waste management industry and really help clean things up. We're in active talks with a number of cities and privately owned waste management companies, here and internationally."

Ecologico-Logic's leadership consists of seven individuals with strong backgrounds in business, manufacturing, mechanical engineering and environmental science.

To learn more about The Muncher® and upcoming demonstrations, go to www.ecologicologicinc.com or call 775.990.4568.

More from Software