Press Release Summary: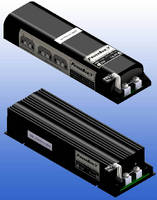 x
---
Original Press Release:

Tecate's Newest PowerBurst® Ultracapacitor Series Is Drop-In Replacement to Popular Maxwell Modules



16.2V Parts Optimized for Energy Storage and Power Delivery Requirements Of Industrial & Automotive Applications

San Diego, CA, - Tecate Industries, a leading global supplier of capacitors and ultracapacitors, today announced the release of the PBD PowerBurst Ultracapacitor Modules, offered as a drop-in replacement for Maxwell Technologies' discontinued BC BPAK0052/0058, and BC BMOD0052/0058 ultracapacitor series. Tecate's newest multi-cell modules were developed together with Maxwell, and notably employ their radial 350F, 2.7V ultracapacitor cells to facilitate a 58 F module with a very low ESR of 22.4 mohms and 16.2V working voltage. Targeting industrial OEMs/ODMs, the compact PBD modules are uniquely designed to provide cost-effective energy storage and power delivery solutions for UPS (uninterruptable power supply), telecommunications and other industrial electronics applications. Comprised of RoHS-compliant, UL Recognized ultracapacitor cells, the modules further boast an active cell balancing topology to provide efficient balancing between the cells and to minimize any additional current leakage. Parts are designed to withstand over 500,000 cycles or 10 years of life under specified operating conditions.

Tecate's PowerBurst PBD Ultracapacitor Modules may be confidently specified to perform a variety of energy-storage and power-delivery functions in a broad range of both "peak power shaving" and "back-up power assist" applications, including transportation, industrial systems and equipment. Parts are highly appropriate for use in rail systems, windmill pitch control systems, and wireless transmission applications.

The ultracapacitor modules feature a capacitance of 58.0 F, and a working voltage of 16.2V. The small footprint, shrink-wrapped, screw terminal modules weigh 514 grams and measure 229 mm (L) x 68 mm (W) x 38 mm (H). For more demanding applications, PBD modules are available encased in a rugged, aluminum housing. These robust parts are provided with mounting slots, weigh 943 grams, and measure 233 mm (L) x 85 mm (W) x 44 mm (H). PowerBurst PBD modules are rated for an operating temperature -40 degrees C to +65 degrees C.

In quantities of 5+, per piece pricing for Tecate's PowerBurst PBD shrink-wrapped ultracapacitor modules is $204.00, and $230.00 for the aluminum-encased version. Delivery is 4-6 weeks ARO. Custom orders are welcome. For additional information, visit www.tecategroup.com/capacitors/datasheets/powerburst/PBD.pdf.

About Tecate Industries

Headquartered in San Diego, CA, Tecate Industries is a division of the Tecate Group, a global leader in the design, sales, and distribution of capacitors and ultracapacitors, as well as audio and multimedia components and service. The Company specializes in supplying high-quality ceramic high voltage, tantalum, aluminum electrolytic and film capacitors, together with ultracapacitor cells, to the world's leading OEMs, assemblers, and end users in markets spanning consumer electronics, telecommunications, industrial, military, medical, automotive, transportation and utilities. Founded in 1963, Tecate Industries has long maintained its commitment to provide unparalleled levels of customer service and support, along with state-of-the-industry design and engineering resources. The Company additionally takes pride in offering customers virtually unlimited customization capabilities for unique applications, and maintains a vast global network of sales representatives
http://tecategroup.com/customer_service/salesreps.php, and distributors tecategroup.com/customer_service/distributors.php. To learn more about Tecate Industries, visit www.tecategroup.com.

More from Sensors, Monitors & Transducers