Press Release Summary: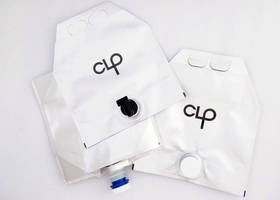 x
---
Original Press Release:

ITW Fastex & CLP Introduce Double-Gusseted Pouch as a Stand-Alone Replacement for Bag-in-Box Dispensers



ITW Fastex and CLP Packaging Solutions are unveiling a new innovation in double-gusseted stand up pouches, "Bag Without a Box," at PackExpo this month. The revolutionary pouches are designed to eliminate the cardboard carton from bag-in-box packaging.

The 3- and 5-liter pouches feature an assortment of ITW Fastex taps tailored to the dispensing and handling properties of the product, from retort, to high-acid aseptic, to hard-to-hold chemicals. Unlike the collapsing pouches inside bag-in-box cartons, ITW / CLP's reinforced double-gusseted pouches remain standing throughout their use, though the tops lower as product is dispensed to minimize head space and keep contents fresh. The laminate pouches also provide outstanding oxygen barrier properties at a fraction of the weight and space required by standard cans or rigid containers.

The new pouches can be filled through the spout ring on nearly any existing bag-in-box filling line with minor adjustments.

Clean and Green

"It is always exciting to find a way to eliminate an entire layer of packaging - in this case, the entire cardboard carton that has been necessary till now to provide structure for bag-in-box products." says Ehud Safrai, president of CLP Packaging Solutions in Fairfield, NJ. "By eliminating the cardboard, we are preventing tons of cartons from entering the landfills, while streamlining the packaging line, and removing a breeding ground for bacteria and pests. This makes our new, double-gusseted pouches both clean and green."

"The reinforced, multi-layer laminates are optimized for the products they will contain," Safrai points out, "and will be available with an aluminum foil oxygen barrier or a clear, high-barrier, multi-layer option that allows for a visual inventory of the remaining contents, even after front and back printing. Regardless of the construction, all the pouches offer the opportunity to take advantage of CLP's rotogravure or flexo printing lines for rich graphics - an eye-catcher for club-store packaging and even institutional use."

ITW Taps

The taps are installed at the bottom of the pouches, allowing users to quickly and conveniently stand the package on a shelf and dispense product without lifting or pouring. Die-cut finger holes at the top of each pouch make lifting and moving the package easy and prevent unwanted squeezing of the pouch's sides during transport.

The new pouches are available with a variety of ITW fitments, which are eye-catching, easy to operate and self-sealing. Among the options are three sizes of the company's turn-to-dispense Tru-seal line and ITW's new, ergonomic Unitap for aseptic packaging.

"We are very fortunate to have been chosen by ITW for the development of the 'Bag Without a Box' line" says Safrai. "ITW has been involved from back at the design stage of the project, and tested it with us on retort, aseptic, and hot fill lines. They have contributed great materials and have been a source of vast knowledge so we could jointly offer pouches that perform for a wide variety of customers."

Enthusiastic Marketplace

Safrai says CLP has already received a number of inquiries and orders from producers of products that are ordinarily only available in rigid aseptic packaging, such as #10 cans. There have already been orders for apple puree in France, antifreeze in Russia, and industrial cleaners and detergents for the US market.

Other standard and retortable food and beverages items such as sauces, purees, soups, gravies and broths, wine, juices, teas and others will also be able to reap the benefits of this product, He sees tremendous growth opportunities in those sectors, as well as adoption by producers of yogurts and other aseptically packaged functional foods and assorted non-food items.

"CLP is renowned for its expertise in reliable packaging for retort and non-retort food and beverage service, as well as other institutional applications such as pouch laminates for hard-to-hold materials, cleaning supplies and household chemicals," Safrai adds. "Introduction of this revolutionary pouch should stimulate interest among producers of a wide range of food and non-food products seeking large-volume storage and use alternatives." Safrai adds.

At the ITW Fastex offices in Des Plaines, Ill., general manager Tim Stark agrees that the double-gusseted pouch has a great future.

"What's exciting is that we believe one of the main things preventing pouches from becoming more widely used for these large applications is that many of them don't maintain their form and shape very well," Stark notes. "The double-gusset stand-up pouch will address the main roadblocks and open the door to packaging that takes up a lot smaller footprint than some of the more rigid containers do."

CLP is an international supplier of high-quality rotogravure and flexo printed flexible packaging for medical, food, beverage, cosmetic, industrial, diagnostic, pet food, electronics and detergent products. CLP is also applying its expertise in laminate technologies to innovations such as printed electronic circuit boards and vacuum insulation panels. CLP is part of the Tadbik Group, a world leader in flexible packaging, pressure sensitive labels, in-mold labels and shrink sleeves.

For more information, contact Ehud Safrai at CLP Packaging Solutions at eis@clppackagingsolutions.com or (877) 888-1888, or visit www.clp-packaging.com.

Unitap® and Tru-seal® are registered trademarks of ITW Inc.

More from Sensors, Monitors & Transducers