X-ray System increases bulk food inspection efficiency.
Press Release Summary: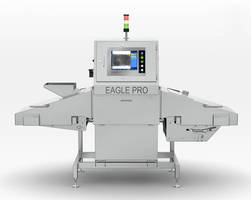 Aiding contaminant detection, product handling, and maintenance for high-volume, dry bulk foods applications, Eagle™ Bulk 415 PRO has cupped conveyor and 4-lane flap rejecter. Features that simplify care procedures for production line operators and maximize production uptime include tool-free removal of conveyor belt, hinged louver, and belt tensioning lever system. Also included, SimulTask™ imaging software offers image analysis routines, on-screen diagnostics, and safety system status.
---
Original Press Release:

Eagle Optimizes Bulk Food Inspection with X-ray



New x-ray inspection system, Eagle™ Bulk 415 PRO, improves product handling to boost contaminant detection in bulk food products



Tampa, Florida — Manufacturers can now benefit from enhanced contaminant detection, improved product handling, and streamlined maintenance for dry bulk foods with the new Eagle™ Bulk 415 PRO x-ray inspection system from Eagle Product Inspection. Featuring an innovative cupped conveyor and four-lane flap rejecter, the new system is ideal for production lines processing nuts, grains, granola, sugar, cereals, coffee and other high-volume bulk products. The Bulk 415 PRO maximizes contaminant removal while cutting product waste, as well as reducing downtime to boost line efficiency.  To view the system, please visit: www.eaglepi.com/bulk415pro



Traditionally dry bulk foods have presented a challenge to manufacturers looking to minimize the risk of contaminants reaching end consumers. As the product is inspected in a loose flow prior to the packaging process, rather than discrete, uniform packs, it can be difficult for standard product inspection systems to identify contamination. In addition, standard single flap rejecters commonly found in these types of applications which cover the entire belt width can result in too much good  product being removed along with contamination, increasing product waste.



The Bulk 415 PRO, however, features a cutting-edge cupped conveyor, the raised edges of which promote a more uniform product depth across the belt, as well as reducing waste by preventing product spilling onto the floor which can occur using conventional flat belt designs. This, combined with Eagle's Material Discrimination X-ray (MDX) technology, which discriminates materials by their chemical composition rather than relying on busy grey scale images, optimizes the detection of contaminants, from glass, metal and some plastics , to mineral stones and rocks.



An innovative four-lane flap rejection mechanism, each covering one quarter of the belt, helps to ensure contamination is removed from the production process while keeping the ejection of good product to a minimum.  This not only cuts the risk of substandard product reaching end consumers, but also reduces product waste, protecting profits and enhancing efficiency.



The Bulk 415 PRO also boasts a number of features designed to simplify care procedures for production line operatives and maximize production uptime. The conveyor belt can be easily removed and dismantled for cleaning and component replacement without the need for tools, while a hinged louver covering the conveyor assembly facilitates access for maintenance, minimizing downtime and boosting line productivity. A convenient belt tensioning lever system allows easy belt removal and tensioning, saving even more time for increased production uptime.



Eagle's proprietary SimulTask™ imaging software is included in the Bulk 415 PRO as standard. This offers powerful image analysis routines, on-screen diagnostics and safety system status visualization to facilitate data and machine condition monitoring for operators, helping them to identify and rectify adverse performance trends before they become an issue.



"In an increasingly globalized market, food manufacturers are under pressure both to ensure their products meet the most stringent standards of safety and quality to safeguard consumer well-being, but also to cut operating costs to protect profit margins and stay competitive," explained Kyle Thomas, Strategic Business Unit (SBU) Manager at Eagle Product Inspection. "It's imperative then that manufacturers have specialized tools available to them to ensure effective contaminant removal while minimizing waste and essential downtime. Technologies, such as the Eagle Bulk 415 PRO, can achieve this for bulk food manufacturers, maximizing line productivity and upholding optimum product quality, ultimately to protect their brand and market share."



About Eagle Product Inspection

Eagle Product Inspection is a pioneer in advanced x-ray inspection and fat analysis systems, delivering robust, market-leading technology and expertise to food and beverage processors and manufacturers around the world.  The Eagle Product Inspection line of x-ray inspection systems evaluates in process and finished products for contaminants such as metal, glass, stone and bone while also having the ability to analyze the fat content of meat, count components, check seal integrity as well as measure mass and assess fill levels.



With its headquarters in Tampa, Florida, and local offices across the globe, Eagle Product Inspection machines meet today's Hazard Analysis & Critical Control Points (HACCP) certification requirements. Eagle and its partners work in close collaboration to ensure that food, beverage and other consumer packaged goods manufacturers and their customers in turn can rest assured that the quality of every product is upheld.



Visit www.eaglepi.com/bulk415pro for more information.



Contact:

Eagle Product Inspection

6005 Benjamin Road

Tampa, FL  33634

Telephone: +1-877-379-1670

Email: eaglesales@eaglepi.com

Website: www.eaglepi.com

More from Electrical Equipment & Systems