X-ray System accommodates tall, wide, and dense packages.
Press Release Summary: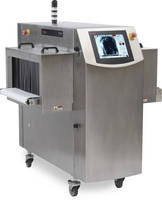 Designed for food companies, NextGuard C500 features USDA-/FDA-approved urethane belt that operates from 16–164 fpm and accommodates up to 25 lb packages measuring 19.7Â x 9.8 in. X-ray beam width and arc-shaped detector eliminate blind spots in inspection tunnel, while availability of 160 W (80 kV/2 mA) or 200 W (100 kV, 2 mA) power sources ensures enough X-ray power to penetrate thick and dense packaged products. Watertight USB 2.0 and Ethernet ports are standard.
---
Original Press Release:

New NextGuard C500 X-ray System Accommodates Wider, Taller Packages



Food processors now have an affordable inspection/detection option for denser, thicker products



MINNEAPOLIS – Food companies that require affordable inspection and detection capabilities for larger product and case profiles now benefit from a new X-ray system that accommodates taller and wider packages than previous models.



The Thermo Scientific NextGuard C500 X-ray detection system features an aperture that is 35 percent wider and 50 percent taller than previous models, making it well suited to inspect larger-sized products and cases. However, the machine footprint is only 20-30 percent larger, optimizing production floor space. As with all NextGuard systems, the C500 uses a wide X-ray beam and arc-shaped detector designed to eliminate blind spots in the inspection tunnel.



NextGuard's performance-oriented features also have been driven by a changing industry landscape. These include evolving HACCP standards, increased use of metalized film packaging (which is problematic for metal detectors) and various wet or semi-frozen foods (cheese, ice cream, bakery products) that do not lend themselves to metal detection due to product effect issues. 



"Many club stores and wholesale warehouses now mandate the use of detection/inspection for products sold in their outlets. This system gives food processors an affordable option for bulk sizes," said Bob Ries, lead product manager, metal detection and X-ray inspection, Thermo Fisher. "The NextGuard C500 is well suited for cases with multiple components, such as cartons or flexible bags, as well as large, individual packages or boxes. Additionally, it can be configured for up to eight lanes of simultaneous inspection, making it more cost-effective than purchasing and maintaining several smaller-aperture, single-lane systems."



To assure there is enough X-ray power to penetrate thick and dense packaged products, the NextGuard C500 is available with an optional 25 percent-higher power source. This is desirable for products such as large meat/poultry packages, blocks of cheese or ice cream tubs.



Thermo Fisher developed the NextGuard system as an affordable, simple-to-use, performance-oriented X-ray detection system aimed at reducing the total cost of ownership in order to make X-ray detection accessible to companies of all sizes. The NextGuard system is now widely used worldwide in a variety of food manufacturing facilities.



For more about Thermo Scientific product inspection equipment, please visit: www.thermofisher.com/nextguard.



About Thermo Fisher Scientific

Thermo Fisher Scientific Inc. is the world leader in serving science, with revenues of $17 billion and more than 50,000 employees in 50 countries. Our mission is to enable our customers to make the world healthier, cleaner and safer. We help our customers accelerate life sciences research, solve complex analytical challenges, improve patient diagnostics and increase laboratory productivity. Through our premier brands – Thermo Scientific, Applied Biosystems, Invitrogen, Fisher Scientific and Unity Lab Services – we offer an unmatched combination of innovative technologies, purchasing convenience and comprehensive support. For more information, please visit www.thermofisher.com.



Sales inquiries:

Thermo Fisher Scientific

Product Inspection

501 90th Avenue NW

Minneapolis, MN 55433 USA

phone: +1 763 783-2500

email: sales.packaging.us@thermofisher.com

www.thermoscientific.com/productinspection

More from Architectural & Civil Engineering Products