X-RAY Inspection System offers new software algorithms for inspecting pumped food products.
Press Release Summary: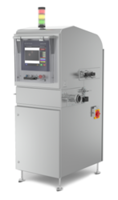 Designed for inspecting pumped food products, X38 automatically calibrates x-ray settings. System can detect contaminants such as calcified bone in a timely and accurate manner. Units IP69-rated air conditioner is suitable for high-pressure, high-temperature cleaning applications. Algorithms are developed for a wide range of piped food products including meat, poultry, fruits, and vegetables.
---
Original Press Release:
New Next Generation X-Ray Inspection Technology for Pumped Food Inspection
(PRWEB) OCTOBER 18, 2017
Manufacturers of pumped food products can benefit from high detection sensitivity and improved Overall Equipment Effectiveness (OEE) with the X38 x-ray inspection system from METTLER-TOLEDO Safeline X-ray.
The X38 forms part of METTLER-TOLEDO Safeline X-ray's cutting-edge Next Generation x-ray inspection technology. The innovative single vertical x-ray beam system for pumped food products boasts a complete new set of software algorithms that have been specially developed for piped food products, including meat and poultry, fruit and vegetables, dairy, baby food, syrups, jams and preserves. It offers optimum detection capabilities, particularly for contaminants such as calcified bone, mineral stone, glass shards and metal filings, while allowing the timely and accurate opening of the reject valve, ensuring precise removal of the contaminated product with minimal product waste. Crucially, the X38 features a uniquely robust, Ingress Protection (IP) 69 rated design that supports and facilitates the rigorous hygiene regimes required by pumped production lines, increasing uptime and optimizing productivity.
Traditionally, pumped production lines have presented a challenge to manufacturers when it comes to cleaning since the machinery is in direct contact with the product. To overcome this, the production machinery must be designed specifically for harsh wash-down environments accompanied by rigorous and regular cleaning schedules to prevent biological, chemical and physical contamination. With this in mind, the X38 has been built according to the principles of the European Hygienic Engineering and Design Group (EHEDG), featuring a number of design enhancements to support even the harshest wash-down procedures. The system's pneumatic components have been moved to their own sealed enclosure to protect them from water and cleaning chemical ingress.
The X38's air conditioner has an IP69 rating that makes it capable of withstanding the high-pressure and high-temperature cleaning applications commonly seen on pumped food lines. The X38's casing also boasts sloping surfaces and curved edges, which allows water to run off quickly and easily, reducing the need to wipe the machine dry after cleaning and eliminating bacteria traps. These design improvements mean that the frequency of downtime for cleaning can be reduced and in addition the X38's robustness means higher reliability of performance i.e. less downtime. Both of these facts significantly increase overall equipment effectiveness (OEE) and reduce the total cost of ownership (TCO).
The system has a number of design features to simplify maintenance and testing processes for manufacturers to enhance OEE. A unique feature of the X38 system is that it automatically calibrates x-ray settings. Traditionally, to calibrate a pipeline x-ray system, a signal from the detector, whilst no product is in the path of the beam, needs to be detected, which is often challenging as the inspection equipment and pipe can still contain product. To avoid unnecessary downtime by emptying product from the pipe, the X38 x-ray generator and detector simultaneously move away from the pipe manifold (inspection window), calibrate and then move back to the inspection point in less than 20 seconds.
An optional infeed pipe with a test piece insertion port can be supplied, which allows the machine operators to perform regular testing. Additionally, an auto test facility can be added which consists of a test sphere, automatically fed through the x-ray beam while product is moving, thereby checking the sensitivity of detection without interrupting production.
Speaking about the development of the new system, Niall McRory, Global Key Account Manager at METTLER-TOLEDO Safeline X-ray, explained: "Manufacturers are facing growing competition from new companies entering the international market. To protect and grow their bottom line, more and more are looking for ways to reduce operating costs while boosting the productivity of their pumped production lines."
"X-ray inspection systems that feature a robust, class-leading design can help manufacturers achieve this, ensuring optimum detection sensitivity while streamlining even the harshest cleaning regimes, boosting line efficiency. This helps food manufacturers remain competitive in an increasingly crowded market."
The X38 x-ray system can be easily integrated into production pipelines with flow rates of up to 14 tonnes per hour, depending on the diameter of the pipe and the application. It is available with 2.5 inch, three inch or four inch diameter pipes as standard, but can be built with other sizes on request to suit customers' existing pipework.
Enhanced integrated interlocking systems ensure pipes are fully in position before the x-ray generator switches on, guaranteeing operator safety. Advanced connectivity options enable the system to be set-up from a remote location for easy product changeovers, while also allowing the recording and storing of product inspection data.
METTLER-TOLEDO now offers a 5-year generator warranty for all our Next Generation x-ray systems, this ensures the most expensive component of your x-ray system is covered, avoiding any unexpected downtime or additional costs, when purchased with a comprehensive or standard care package.
METTLER-TOLEDO Product Inspection offer ProdX™ 2.0 data management software system which is designed for use on food lines, as well as in pharmaceutical and chemical processing. The data management software package connects product inspection equipment across the entire production line into a single, unified network.
About METTLER-TOLEDO Safeline X-ray
METTLER-TOLEDO Safeline is the world's leading supplier of metal detection and x-ray inspection solutions for the food and pharmaceutical industries. Together with Garvens Checkweighing, CI-Vision and Pharmacontrol Electronic GmbH (PCE), METTLER-TOLEDO Safeline forms the Product Inspection division of METTLER-TOLEDO.
For more information on the X-series x-ray inspection systems or any aspect of x-ray inspection procedures and technology, call Daniela Verhaeg, Marketing Manager SBU X-ray Inspection of METTLER-TOLEDO Safeline X-ray on +44 (0)1763 25 7900 or email daniela.verhaeg(at)mt.com.
For general information on METTLER-TOLEDO Safeline, visit: http://www.mt.com/pi 
For more information on the X38 X-ray Inspection System, visit: http://www.mt.com/xray-X38
More from Architectural & Civil Engineering Products