X-Ray Detector suits protein crystallography.
Press Release Summary: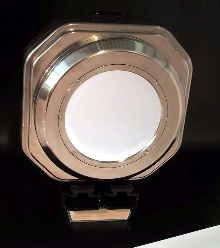 Designed for macromolecular X-ray crystallography, Ã…XIOM 200 has essentially zero detector noise, and is able to record each individual X-ray photon as it strikes detector. By eliminating readout dead-time, imaging system supports continuous scans where goniostat is scanned without stopping between frames. Active area of 200 mm diameter and high spatial resolution allows large protein crystal unit cells to be resolved.
---
Original Press Release:

Bruker AXS Announces AXIOM(TM), a Revolutionary Ultra-High Performance X-Ray Detector for Protein Crystallography


FLORENCE, Italy -- August 23, 2005 -- Bruker AXS Inc., a leading global provider of advanced X-ray solutions for life sciences, announced today at the 2005 International Union of Crystallography (IUCr) meeting in Florence, Italy the introduction of a novel completely digital imaging detector for macromolecular X-ray crystallography, the Ã…XIOM 200. This innovative detector is based on Bruker AXS' proprietary 'R&D 100'-award-winning microgap detector technology. Unlike older and inherently noisier analog detectors like image plates, which are unable to detect low-level X-ray signals, the Ã…XIOM has essentially zero detector noise, and is able to record each individual X-ray photon as it strikes the detector, thus offering the highest sensitivity available today.

Dr. Roger Durst, Chief Technology Officer for Bruker AXS, commented: "The unprecedented sensitivity of the Ã…XIOM allows it to detect signals that would be buried in the noise of conventional detectors. Thus, it is now possible to achieve protein structural resolution in the home lab that previously would be available only at a synchrotron beamline."

In addition, the Ã…XIOM features zero readout dead-time, again distinguishing it from older detector technologies which typically spend many seconds (or even minutes) reading out the recorded analog signal. By eliminating readout dead-time, the Ã…XIOM is the only imaging detector to support "continuous scans" where the goniostat is scanned without stopping between frames, as is necessary with conventional detectors. This eliminates the mechanical jitter associated with goniostat acceleration and shutter timing, and thus can improve the crystallography data quality even further.

Dr. Matthew Benning, Bruker AXS Senior Applications Scientist, stated: "Its ultra-high sensitivity and zero readout dead-time allow the Ã…XIOM to acquire data much faster than conventional analog detector technologies. This makes the AXIOM the ideal detector for many high-throughput crystallography applications, including protein screening and ligand-binding studies."

The Ã…XIOM also features a large active area of 200 mm diameter together with high spatial resolution which allows large protein crystal unit cells to be resolved. According to Susan Byram, Ph.D., Bruker AXS U.S. Crystallography Sales Manager, "The Ã…XIOM is a powerful new high-end addition to our biological detector options which already include the market-leading Platinum(TM) CCD X-ray detector. With its unique combination of large active area, high spatial resolution, zero readout dead-time and outstanding quantum-limited sensitivity, the Ã…XIOM 200 delivers dramatic improvements in structural proteomics data quality and productivity."

About Bruker Biosciences (NASDAQ: BRKR)
Bruker BioSciences Corporation, headquartered in Billerica, Massachusetts, is the publicly traded parent company of Bruker AXS Inc. and Bruker Daltonics Inc. Bruker AXS is a leading worldwide developer and provider of advanced X-ray systems which provide solutions for molecular and elemental analysis by X-ray crystallography, X-ray diffraction and X-ray fluorescence. Its integrated systems, which have particular application in the drug discovery and materials science fields, provide customers with high throughput capabilities to determine the structure of specific molecules, such as proteins, and to characterize and determine the composition of materials. Bruker Daltonics is a leading developer and provider of innovative life science tools based on mass spectrometry. For more information, please visit www.bruker-axs.com and www.bruker-biosciences.com

For Further Information:
Susan K. Byram, Ph.D.
U.S. Crystallography Sales Manager
Tel. +1 (608) 276-3000
sue.byram@bruker-axs.com

More from Agricultural & Farming Products