Wright-One Has a Large Quantity of Used Datamax 4T Printers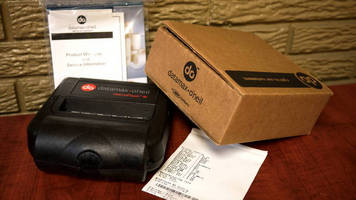 The 4t series offers the most reliable performance available, printing outstanding quality of receipts, proof of deliveries, labels and invoices. Small and lightweight, the 4t is simply your finest choice worldwide for route accounting, direct store delivery (DSD), field mobile service, logistics, home delivery and pre-sales systems.

We have 650 previously owned Datamax 4T printers that are in great condition. Eagle Wright is offering these Datamax 4T Printers to any distributor or end user who may be able to use them for active printing or even back up printers, or for parts.

Important to note that these are Bluetooth configured units (an upgrade from the factory default configuration). All units are also packed individually in factory-box.

Model: microFlash 4t Bluetooth

Otherwise known as: MF4t Bluetooth

Part Number: 208150-501

Batteries: two batteries installed

Accessories: No other accessories available

Condition: All units have been tested by our trained technical staff and fully recorded/serialized in a line-item report. We've checked all points of common usage and wear.

While in the field, the end-user had the printers maintained under the Datamax "PRINTER EXPRESS" hot-swap service program. If there was ever a problem with a unit in the field, the unit would be sent back to Datamax, and Datamax would immediately send out a replacement from a customer-owned spare pool. The bad unit would then be received, and factory refurbished.

We're looking to liquidate our stock for $80 each, free freight for ground shipments in the USA. We can ship globally with your account number and a transfer of funds. All units are in our warehouse in Ohio and available for immediate liquidation and shipment.

More from Electrical Equipment & Systems