Wrench Kit is suited for rugged applications.
Press Release Summary: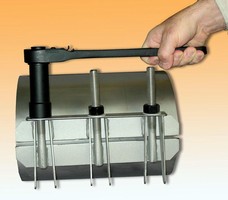 Featuring model 51QR ratchet handle and 5 x 3½ in. long deep well sockets, 511X Wrench Kit is designed for applications in plant maintenance, repair, operation, and production as well as construction and pipeline work. Bolt-Thru design allows bolts to pass entirely through arm head and product includes quick release feature. Sockets are made of machined steel while handle is made of cast iron. Hexagonal sockets of 7/8, 15/16, 1 1/16, 1 1/8, and 1¼ in. are included.
---
Original Press Release:

New Wrench Kit Saves Time and Knuckles



WORCESTER, MA, May 6, 2008 . . . The new 511X Wrench Kit from Lowell Corporation extends the reach of workers giving them greater freedom and leverage in tight spots while reducing the risk of injuries. Greater productivity and safety result.

Designed for rugged applications commonly found in plant maintenance, repair, operation and production as well as construction and pipeline work, the Lowell 511X Kit comprises Lowell's Model 51QR ratchet handle and five deep well sockets. All components are packaged in a heavy duty molded plastic case.

Each socket is 3-1/2" long, giving workers an extended reach so that the wrench handle can usually clear many common obstacles such as housings. This extra clearance not only reduces the risk of injury, but also gives workers a wider swing which, in turn, means that work is easier and goes faster.

For additional flexibility and utility, the wrench handle incorporates Lowell's unique Bolt-Thru design. This feature allows bolts to pass entirely through the arm head so that nuts can be secured on any threaded length.

The tools are built to take hard use in applications such as guard rail assenbly, leveling pad adjustment, mechanical joints, restraints, couplings, sleeves, repair clamps, saddles, and flange bolts. Sockets are made of machined steel while the handle is made of cast iron and all ratchet parts are fully enclosed.

Sockets can be quickly changed thanks to a quick release feature that enables users to change sockets with the flick of a thumb. Sockets are held securely in the handle with a sure-locking dead bolt.

There are five hexagonal sockets in the 511X Kit: 7/8", 15/16". 1-1/16", 1-1/8", and 1-1/4".

Like all of the company's products, the sockets and handle in Lowell's 511X Kit are guaranteed against defects in material and workmanship for a period of one year from date of delivery.

Started as the Lowell Wrench Company in 1869, Lowell Corporation is a leading American manufacturer of ratchet technology for hand tools and machinery. The company makes ratchet arms, socket wrenches, ratchet and roller clutches, and related products used by civilian industry, the military, and utilities. Lowell sells its products both nationally and internationally.

For more information about Lowell wrench sets, or for a full-line catalog, call 800/456-9355 or 508/835-2900, or email customerservice@lowellcorp.com. The web address is www.lowellcorp.com.

More from Portable Tools