WPT Power Debuts Pilotless Mechanical Power Take-off at TCI Expo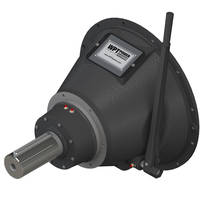 Wichita Falls, TX November 13, 2015 – WPT Power Corporation has expanded it's power take-off line with the introduction of the Pilotless Mechanical PTO. The product launch was revealed at the 2015 Tree Care Industry Expo in Pittsburgh, PA in November.
Tier 4 standards have made fitment of pilot bearings increasingly difficult. This new mechanical PTO design eliminates the pilot bearing and increases side load capacity up to 74% over previous generations of mechanical PTO products. They come standard with ball-bearing engagement collars and feature a dual spherical roller main bearing design. The WPT Pilotless Mechanical PTO will optimize your costs by reducing inventory, increasing uptime and engine life, and simplifying installation time.
"The previous standard in mechanical PTO design has remained relatively unchanged for 75 years. However, industrial engine applications are more demanding than ever and customers needed a design rugged enough to meet those demands," said Jeremy Bodine, Applications Engineer at WPT Power. "We have engineered that solution with the WPT Pilotless Mechanical Power Take-off."
For more information, please contact WPT Corporation at 940-761-1971 or email, info@WPTpower.com.
About WPT Power Corporation
WPT Power Corporation is an international manufacturer of pneumatic and hydraulic power take-off's, clutches and brakes for a broad range of industrial, marine, mining, off-road and energy markets. WPT Power has been a leader in the power transmission industry, providing superior products with the highest of quality since 1992. For more information about WPT Power, visit our website at www.wptpower.com.
P.O. Box 8148
1600 Fisher Road
Wichita Falls, Texas 76307
Phone: 940-761-1971
fax: 940-761-1989
contact:
Steve St. John
Marketing Manager
Email: stjohn@wptpower.com