Worksaver Sweep Action Rock Grapple Part of Top 50 New Products by Equipment Today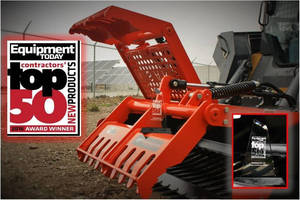 The SARG™ (Sweep Action Rock Grapple) from Worksaver, Inc. was named as one of Equipment Today's Contractor's Top 50 New Products for 2016.  The list was compiled by the editorial teams of the magazine and ForConstructionPros.com based on product inquiries and web page views of new products featured in Equipment Today from May 2015 to April 2016.  The winning products are a listing of the industry's favored products and represent a leading edge in innovation, efficiency and environmental conservation in the construction field.



Worksaver's SARG is designed for skid steers and handles rocks, brush, logs, stumps, debris, scraps and more.  The patent pending design allows operators to sort large or small rocks and debris with just one tool.  The front grapples operate in a sweeping action to pull rocks or debris into the bucket for easy site clean-up.  Grapple design then retains the rocks or debris while the operator rocks the attachment to sift out the dirt.    



Worksaver, Inc. manufactures agricultural, industrial, commercial and construction equipment for a variety of applications for property owners, farmers, ranchers, contractors and more.  Worksaver also "builds with sunshine" by utilizing a 250Kw solar field to help provide a renewable energy source. 

          

For more information, contact Worksaver, Inc., P.O. Box 100, Litchfield, IL 62056-0100.  Phone: 217-324-5973.  Fax: 217-234-3356.  Website: www.worksaver.com. E-Mail: sales@worksaver.com. Also find Worksaver on Facebook, Twitter and YouTube. 





More from Agricultural & Farming Products