Workholding System eliminates operator setup errors.
Press Release Summary: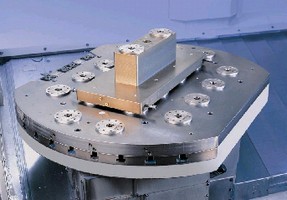 Designed for all horizontal and vertical machining centers, VB DockLock zero-point workholding system is available in heavy-duty, automatic, standard, and custom models. It provides repeatable positioning accuracy to ±0.0002 in. on typical part runs. Consisting of hydraulic actuated locking cylinder, system instantly aligns and locks vise or fixture with clamp down force of 2,800 lb/locking cylinder and retention force of 9,000 lb/locking cylinder.
---
Original Press Release:

New Zero-Point Workholding Systems



Available In Heavy Duty, Automatic, Standard And Custom Versions For Workholding Setups In Seconds

See At www.kurtworkholding.com
Or Call 1-800-328-2565

Minneapolis, Minnesota: Kurt Manufacturing Company announces availability of its new zero-point workholding systems in heavy duty, automatic, standard and custom models. Designed to integrate with new or existing workholding devices such as Kurt vises and fixtures, these VB DockLock systems provide fast, ultra accurate setup on machining centers. They completely eliminate operator setup errors.

With repeatable positioning accuracy to ± 0.0002 inch on typical part runs, the VB DockLock system ensures high quality part finishes, no scrap parts, and substantial setup time savings. For example, a typical workholding setup change usually requiring 20 minutes is done in less than 2 minutes with the VB DockLock.

Consisting of a patented hydraulic actuated locking cylinder, the system instantly aligns and locks the vise or fixture with a clamp down force of 2800 lbs per locking cylinder (12,456 newtons) and with a retention force of 9000 lbs per locking cylinder (40,033 newtons). Once in place, the workholding remains immobile. A uniquely designed collet connection dampens vibration tendencies in the workholding setup, an important design feature.

The VB DockLock allows the user to locate or remove the workholding from a machine, or move it offline or to another machine and/or back again in just seconds with zero-point positioning accuracy every time. Designed for all model horizontal and vertical machining centers, the VB DockLock is now available in standard, automatic, heavy duty and custom models.

Widely used throughout Europe, VB DockLock is manufactured to the highest Swiss standards. It is available in North America exclusively from Kurt Manufacturing Company.

Interested in more information? Call for FREE brochure in USA and Canada, 1-800-328-2565. Outside USA and Canada, call 1-763-572-4424, or download it from the Kurt website: www.kurtworkholding.com.

Or write to Kurt Manufacturing Company, Industrial Products Division, 1325 Quincy Street NE, Minneapolis, Minnesota 55413. In USA, Fax 1-877-226-7828. Outside USA, Fax 1-612-623-3902. Email: workholding@kurt.com

More from Mechanical Power Transmission