Work Cell Bead Blasting Machine offers automated operation.
Press Release Summary: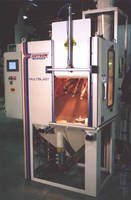 Meeting cell-based production requirements, RSSA-6/SF rotary blast machine is adaptable for such purposes as deburring, cosmetic finishing, and technical surface preparation. Single spindle or table is fitted with component-holding fixture that can be changed for processing of different parts. Rotation speed is adjustable and synchronized with timed blast from up to 4 suction-feed blast guns affixed to telescoping brackets that let each nozzle be positioned to provide total coverage.
---
Original Press Release:

Work Cell Bead Blasting Machine



November 26, 2008 - Saratoga Springs, NY - Guyson Corporation has expanded its line-up of automated blasting systems with small-footprint models designed to meet the special requirements of cell-based production. The RSSA-6/SF rotary blast machine is adaptable for various purposes, such as deburring, cosmetic finishing and technical surface preparation.

The single spindle or table of the Model RSSA-6/SF is fitted with a component-holding fixture that is easily changeable for processing of different parts. As the component rotates at controlled and adjustable speed, it is exposed to the timed blast from up to four suction-feed blast guns affixed to telescoping brackets that allow each nozzle to be positioned at the correct angle and offset for coverage of target surfaces.

Motion of the blast guns enables automated processing of components of varying length without adding more guns. A ball screw and ball nut linear actuator enables the speed and stroke of the traversing gun movements to be programmed and accurately synchronized with component rotation to ensure complete and even coverage. Once all process parameters are set for a particular component, the RSSA-6/SF will repeat the cycle identically, producing highly consistent finishing results. If desired, dimensional data and process routines for different components can be stored by the system's programmable logic controller (PLC) and recalled on demand.

The overall width of the RSSA-6/SF blast cabinet is 52 inches, and it is 32 inches in depth (132 x 81 cm). Several loading door configurations are available, including a vertical sliding door actuated by a pneumatic cylinder. A full-depth hinged side door with safety interlocks provides access to the blast chamber for inspection, adjustment and maintenance.

Engineered-to-order, the finishing system is supplied with a suitably sized media reclaimer and cyclone separator, as well as a cartridge-type, reverse pulse dust collector with an extraction capacity of 1000 cubic feet of air per minute. The media delivery system can be enhanced by an electronic sensor-activated replenisher that automatically adds shot or grit when a low media level is detected. The designer and manufacturer also offers a comprehensive package of abrasion resistance features, such as rubber cabinet lining and cast urethane ducting, when aggressive blast media are to be used in the blast system.

Prospective users of automated blasting equipment are invited to submit sample components for free laboratory testing and application engineering evaluation at the finishing system builder's factory in northeastern New York State.

CONTACT FOR ADDITIONAL DATA:
J. C. Carson
Guyson Corporation
13 Grande Blvd.
Saratoga Springs, NY 12866-9090
Tel: 518-587-7894, ext. 7226
jccarson@guyson.com

More from Electrical Equipment & Systems