WLM Alloy fosters 2D thin-film magnetic core development.
Press Release Summary: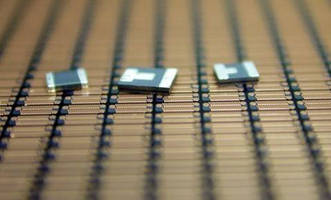 Fe-Co based alloy, FCA, enables miniaturization of passive magnetic components and their assimilation with ICs at wafer level. Wafer level magnetics (WLM) take magnetic components to planar 2D thin-film form that can be deposited with standard wafer processes on top of CMOS wafers. Qualified for full-scale mass production in high-volume foundry, FCA enables Power SoCs based on electroplated WLM and can operate at frequencies above 20 MHz with minimal attenuation of magnetic properties.
---
Original Press Release:

Enpirion Achieves Quantum Leap in Micro-Fabrication and Materials Technology Introducing the World's First 2-Dimensional Thin-Film Magnetic Cores with New Wafer Level Magnetics Technology



• Newly developed planar magnetic alloy

• Proven cost-effective CMOS compatible mass production process

• Enables world's lowest cost highest density DC-DC converters



HAMPTON, NJ – Enpirion, the leader of integrated power IC solutions, announced the successful commercialization of a new magnetic alloy, which enables the miniaturization of passive magnetic components and their assimilation with integrated circuits at wafer level. So-called wafer level magnetics (WLM) present a leap in traditional technology, which will take magnetic components from their 3-dimensional discrete shape to a planar 2-dimensional thin-film form that can be deposited with standard wafer processes on top of CMOS wafers. Enpirion's WLM technology is fully qualified for full-scale mass production in a high volume foundry and enables the industry's first ever Power System-on-Chips based on electroplated wafer level magnetics. Developed with a view to achieving monolithic Power System-on-Chips, the WLM technology can be easily transferred to other micro-magnetic applications, for example micro-transformers for signal isolation, micro-electromagnets for life sciences, integrated magnetic sensors for navigation and PMICs for portable consumer applications.



"Increasing the switching frequency allows the use of smaller inductors utilizing electroplated WLM materials that can be post-CMOS processed. We developed an amorphous Fe-Co based alloy called FCA, which is capable of operating at frequencies higher than 20MHz with minimal attenuation of magnetic properties," explains Dr. Trifon Liakopoulos, Director of MEMS technology and Enpirion's co-founder.  "With wafer electroplating methods, it is possible to cost-effectively deposit photolithographically defined FCA magnetic cores on silicon wafers."



FCA has high resistivity, low coercivity and maintains high effective permeability at frequencies higher than 20MHz. FCA's high magnetic saturation makes it suitable for use as single or multiple layers in power circuits, where it is compatible with flip-chip, wire-bonding and solder re-flow packaging methods.



Enpirion developed a turnkey process module, which features low cost of ownership plating equipment to deposit FCA on 6 inch or 8 inch wafers. The technology has been successfully transferred and embedded in a volume wafer production facility earlier this year, where Enpirion is producing the world's lowest cost, noise sensitive, low power POL DC-DC converters, the 1 Amp EL711 and the 1,5 Amp EL712, the industry's first Power System-on-Chips based on electroplated wafer level magnetics.



About Enpirion

Enpirion is the leader of integrated power IC solutions driving the miniaturization of DC-DC power systems. Enpirion's products are leading the discrete-to-integrated transition in the multi-billion dollar power IC market. Its integrated power IC solutions simplify design complexity while addressing the space constraints and efficiency needs faced by designers of enterprise, telecom, storage, industrial and embedded applications. In engineering complete power-systems-on-a-chip (PowerSoC), Enpirion is the only semiconductor company that owns all key enabling analog power technologies: high-frequency MOSFET, magnetics and packaging.  Enpirion's extensive portfolio of DC-DC converter PowerSoCs with integrated inductors enable the industry's smallest solution footprints and are recognized for their high efficiency, low noise, exceptional thermal performance, high reliability and ease of use. Unlike discrete power products, Enpirion's turnkey solutions give designers complete power systems that are fully simulated, characterized, validated and production qualified. For more information about Enpirion, please visit www.enpirion.com .



Company contact:

Mark Cieri

Vice President Sales & Corporate Marketing

Office: +1 908-894-6020



Agency contact: 

Anja-Maria Hastenrath

embedded PR on behalf of Enpirion

Office: +49 (0) 89 / 64913634-11



USPress@enpirion.com

EUPress@enpirion.com

AsiaPress@enpirion.com

More from Non-Industrial Products