WLAN Module performs in harsh industrial environments.
Press Release Summary: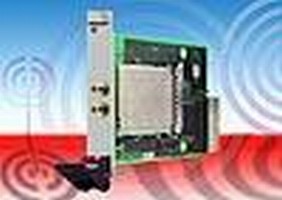 Designed for 3U Compact PCI systems, Model F209L wireless LAN module operates in -40 to 85ºC industrial temperature range and can be coated with conformal film to protect against humidity and dust. Product supports IEEE 802.11b wireless data transfers up to 11 Mbps, has output power range of 20 dBm, and has outdoor signal range of up to 600 m. Module, based on the Prism 2.5 chipset, includes WEP encryption and operates in open 2.4 GHz frequency range.
---
Original Press Release:

New Wireless LAN Module Performs in Harsh Industrial Conditions



Warminster, PA, October 17, 2006 - MEN Micro, Inc., (www.menmicro.com), a leading supplier of industrial real-time and embedded computer products, has introduced a new wireless local area networking (WLAN) module for 3U Compact PCI systems in harsh environmental conditions.

The F209L operates over the industrial temperature range of -40 to 85 degrees C and the module can be coated with a conformal film to protect against humidity and dust in challenging industrial environments. In addition, all components are secured to the printed circuit board in such a way that they are highly resistant to shock and vibration.

The F209L supports IEEE 802.11b wireless data transfers up to 11 megabits per second (Mbps) and has an output power range of 20 dBm. The module is capable of achieving a long-distance outdoor signal range of up to 600 meters.

"The F209L is particularly well suited to transportation applications, especially systems in railway cars," said Barbara Schmitz, Director of Marketing for MEN Micro. "We have found that commuter trains and long-distance passenger trains are requiring wireless Wi-Fi connections for their patrons' laptop computers and cell phones. With MEN's background in rugged embedded industrial systems, we were able to transfer what we've learned from other products to the F209L."

The F209L comes on a PCMCIA (PC Card) circuit board so it can be easily implemented with other types of WLAN deployments. Moreover, the module can be easily deployed along with other wireless technologies, such as Bluetooth, GPRS cellular, Global Positioning Systems (GPS) and others.

The F209L is based on the Prism 2.5 chipset, which includes WEP encryption and operates in the open 2.4 GHz frequency range using Direct Sequence Spread Spectrum (DSSS) technology of IEEE 802.11b.

Pricing and Availability

The F209L is available now from MEN Micro, Inc. Pricing starts at $640 for single units. In the United States, MEN Micro products are sold through a national network of technical manufacturer's representatives. For sales information, call 215-956-1583, send faxes to 215-956-1585 or email sales@menmicro.com. More information on the F209L, this press release, a product photo and collateral materials are available at men.de//corporate/press.asp?lid=&lv=corporate.

About MEN Micro, Inc.

MEN designs, manufactures and sells board-level industrial real-time and embedded computer products. The flexibility inherent in MEN's standard products allows system platforms to be custom configured for a wide range of applications. In addition, the company develops custom boards and systems for OEMs, end users and system integrators. MEN's products include Embedded System Modules (ESM), VMEbus and CompactPCI compute platforms with Intel Pentium and multi-core processors or Freescale PowerPC processors, and a wide selection of M-Module, PMC or PCoMIP mezzanine I/O modules. The MEN product lines support the most widely used operating systems, including Windows, VxWorks, QNX and Linux.

MEN was founded in 1982 in Nürnberg, Germany, as MEN Mikro Elektronik GmbH. Today the company has more than 150 employees with subsidiaries in France, MEN Mikro Elektronik SA; and the United States, MEN Micro, Inc. A network of technical distributors supports the rest of the world.

MEN Micro, Inc.
Phone: 215-956-1583
Fax: 215-956-1585
info@menmicro.com

More from Portable Tools