Wisconsin Oven Ships Two Electrically Heated Four Zone Two Drawer Ovens to Oil & Gas Industry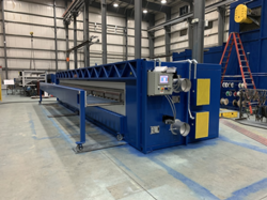 East Troy, WIS. (PRWeb) May 20, 2019
Wisconsin Oven Corporation announced the shipment of two (2) Electrically Heated Four Zone Two Drawer Ovens to a manufacturer in the oil and gas industry.
The batch ovens will be used for pre-heating drill pipe motor tubes and cores. The ovens have sufficient capability to heat 15,000 pounds of steel from 21°C to 120°C in approximately 90 minutes in a pre-heated oven.
These industrial ovens have maximum oven operating temperatures of 150°C and drawer dimensions of 31'0" wide x 35" long x 12" high (each drawer). Each oven has a guaranteed oven temperature uniformity of ±2.8°C at set points 95°, 108°, 120°C, documented with an eighteen (18) point (9 points per drawer) profile test in an empty oven chamber under static operating conditions.
"These drawer ovens were designed to maximize heating rates and temperature uniformity. They feature special ductwork with factory preset louvers arranged for top-down airflow through the work chambers. This ensures that the air is delivered over the full length of the part." – Tom Trueman, Senior Application Engineer
Unique features of these pre-heating batch ovens include: 
Temperature uniformity of ±2.8° C at 95°, 108°, and 120° C
Allen-Bradley CompactLogix PLC
Allen-Bradley PanelView Plus-7 10" color touch screen operator interface
Ethernet communication capability
Two (2) pneumatically operated drawers
10 second drawer open time
One 6,000 CFM direct drive recirculation blower per zone, 24,000 CFM total
Incoloy sheathed tubular heating elements, 240 kW total
About Wisconsin Oven
Wisconsin Oven Corporation has been designing, engineering, and manufacturing industrial ovens and other heating equipment since 1973. Their custom and standard industrial ovens are used for a multitude of applications including heat treating, finishing, drying, and curing. Many of the industries they serve require specific temperature uniformity and equipment performance documentation. Their experienced design team can meet even the most stringent standards for their customers' equipment. Wisconsin Oven realizes that the success of the company depends on their Championship team of employees, which is why they have developed a company culture that recognizes and rewards employees. The goal at Wisconsin Oven is to outperform competition and provide customers with outstanding products and service.
Wisconsin Oven is owned by Thermal Product Solutions ("TPS"), a leading American manufacturer of industrial ovens, furnaces, pharmaceutical sterilizers, laboratory ovens, environmental temperature chambers, and stability test chambers. TPS provides thermal processing and test solutions for a range of industries. TPS brands include Baker Furnace, Blue M, Gruenberg, Tenney, Lindberg, Lunaire, MPH, and Wisconsin Oven. For more information on equipment solutions from TPS visit the website at http://www.thermalproductsolutions.com.
Contact Information
Andrea Stand
Cutwing Marketing Solutions
http://www.cutwingmarketing.com
2622480288
More from Software