Wisconsin Oven Ships Industrial Batch Ovens for Hydrogen Embrittlement Relief of Aerospace Parts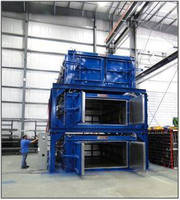 East Troy, WI – Wisconsin Oven Corporation announced the shipment of three (3) gas fired batch ovens for an aerospace parts manufacturer. The batch ovens will be used for hydrogen embrittlement relief of chrome plated landing gear. Due to production demands, the customer needed three (3) industrial batch ovens but limited floor space did not allow for the batch ovens to be placed side by side. The Wisconsin Oven team provided a customized solution that utilized stackable batch ovens to meet the customer's production requirements within the space available.



During the hydrogen embrittlement relief process various parts will be placed on a pallet in the heat treating oven for periods up to 24 hours. The heating will allow the hydrogen trapped in the chrome plating to be released. To maintain versatility, the ovens are independently controlled and safely secured. The gas fired industrial ovens have a maximum temperature rating of 500°F and work chambers of 7'0"W x 13'0"L x 2'6"H. The ovens are designed with horizontal air flow which is ideal for products arranged on multiple tiers when heated airflow cannot be directed vertically through the product. The adjustable ductwork can be set for optimum air flow efficiencies.



The heat treating ovens have pneumatic operated bi-parting doors to allow the doors to be opened by the operator from ground level. The integrated insulated floors are rated for a 4,000 pound evenly distributed load and there are guard rails to protect the inside of the ovens. The industrial ovens have Wisconsin Oven Corporation's patented, high efficiency Expandable Surface™ design and meet AMS2750E Class 3, Instrumentation D.



"At Wisconsin Oven we strive to maximize our customer's production capacity within the floor space available. In this case, we needed to design a set of stackable ovens so the customer could meet production demands in a small footprint." Tom Trueman, Senior Application Engineer of Wisconsin Oven.



Unique features of this batch oven include:

• 10,000 CFM @ 10 HP recirculation blower

• 600 CFM @ ½ HP exhaust blower

• 900,000 BTUH direct fired burner

• Structural framing to elevate oven above each other

• UL (508A) certified labeled control panel

• Allen-Bradley MicroLogix PLC 10" PanelView Plus 6 HMI

• Process timer with auto shut-down

• Guaranteed soak feature

• Programmable Eurotherm 3504 temperature controller with 25 programs

• Eurotherm Nanodac digital paperless recorder



These stackable batch ovens were fully factory tested and adjusted prior to shipment to help reduce installation and start-up times. A 150 point Quality Assurance check list was completed to ensure the equipment met all Wisconsin Oven quality standards. The industrial batch ovens are backed by Wisconsin Oven's Exclusive and Unprecedented 5-Year WOW™ warranty. This warranty covers all materials for all components (less wear items).



About Wisconsin Oven

Wisconsin Oven Corporation has been designing, engineering, and manufacturing industrial ovens and other heating equipment since 1973. Their custom and standard industrial ovens are used for a multitude of applications including heat treating, finishing, drying, and curing. Many of the industries they serve require specific temperature uniformity and equipment performance documentation. Their experienced design team is able to meet even the most stringent standards for their customers' equipment. Wisconsin Oven realizes that the success of the company depends on their Championship team of employees, which is why they have developed a company culture that recognizes and rewards employees. The goal at Wisconsin Oven is to outperform competition and provide customers with outstanding products and service.



Wisconsin Oven is owned by Thermal Product Solutions ("TPS"), a leading American manufacturer of custom industrial ovens used for heat treating, finishing, drying, curing, manufacturing automation and process control. TPS is a global leader in thermal processing products and test solutions with brands including BlueM, Gruenberg, Tenney, Lindberg, MPH and Wisconsin Oven. For more information on equipment solutions from TPS visit the website at www.thermalproductsolutions.com.