Wisconsin Oven Ships Heat Treating Batch Oven to Technology Industry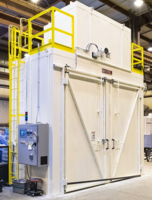 Wisconsin Oven Corporation announced the shipment of one (1) Indirect Gas Fired Heavy Duty Walk-In Series Oven to a manufacturer in the technology industry. The walk-in oven will be used for heat treating materials used in the production of vehicle batteries.
The walk-in oven has a maximum oven operating temperature of 350°F and work chamber dimensions of 12'0" wide x 6'0" long x 10'6" high. Guaranteed temperature uniformity of ±10°F at 190°F was documented with a nine (9) point temperature uniformity survey in an empty oven chamber under static operating conditions.
This batch oven is fully tested and adjusted at normal and maximum temperatures prior to shipment. To ensure heating rates and temperature uniformity it is equipped with combination airflow which includes a combustion air blower and combustion airflow switch.
 "We have supplied this customer with over 35 similar units to several of their facilities. This oven comes with a complete turnkey installation package which includes start-up and employee training." – Steve Bertschinger, Service Sales Manager
Unique features of this Wisconsin Oven walk-in oven include:
Burner rating of 420,000 BTU per hour at full load
16,000 CFM @ 15 HP blower
Allen-Bradley MicroLogix 1100 PLC and PanelView Plus 200 color touch screen
Bi-parting, side-hinged, horizontal swing doors
Digital Eurotherm 3216 temperature controller
Tongue & groove panel assemblies
Total oven dimensions of 15'6" wide x 7'0" long 16'2" high
One Eclipse Series ImmersoPak burner
Access ladder with safety swing gate to top of oven
Complete turn-key installation
This batch oven was fully factory tested and adjusted prior to shipment from our facility. All safety interlocks were checked for proper operation and the equipment was operated at the normal and maximum operating temperatures. An extensive quality assurance check list was completed to ensure the equipment met all Wisconsin Oven quality standards.