Wirewound RF Inductors suit military applications.
Press Release Summary: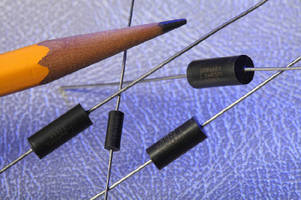 Comprising through-hole, molded RF inductors, QPL-approved MIL-PRF-15305 MS Series is suited for radio frequency applications in military, aerospace, and defense communities. Devices offer inductance from 0.47–10,000 µH, min Q from 35–95, self resonant frequency from 0.95–300 MHz, and DCR from 0.06–72 Ω. Available with current ratings from 47–2,400 mA DC, inductors feature powdered iron or phenolic core with operating temperature of -55 to +105°C or -55 to +125°C, respectively.
---
Original Press Release:

New RF Inductors for Military Applications



Gowanda "M" Series Launch at Space Tech Expo



Gowanda, NY (USA) — Gowanda Electronics, a US-based designer and manufacturer of precision electronic components for power and radio frequency applications will launch five new RF inductor series for military applications at the upcoming Space Tech Expo being held May 19-21, 2015 in Long Beach, CA. Visit Booth #2118 for more information.



This introduction expands the number of QPL-approved MIL-PRF-15305 MS part numbers that can be addressed with Gowanda components. The five series that achieved Qualified Product List status and the seven MS numbers they address include: MRLF19M (MS90539), MLRF21M (MS90542 and MS14052), MLRF22M (MS90540), MLRF24M (MS90541) and MLRF28M (MS75103 and MS91189).



These RF thru-hole, wirewound, molded inductors are designed for radio frequency applications in military, aerospace and defense communities. They have utility in communication, guidance and security applications, as well as in radar, test & evaluation and special mission applications.



The overall performance range provided by the new series includes: inductance from 0.47 to 10,000 uH, Q min from 35 to 95, SRF MHz min from 0.95 to 300, DCR Ohms max from 0.06 to 72, and current rating mA DC from 47 to 2400. Refer to the table below for series-specific values.









Gowanda Series



Military Number(s)



L µH



Q Min



SRF MHz Min



DCR Ohms Max



Current Rating mA DC





MLRF19M



90539



270-1000



60-65



2.24-5.60



8.2-16.5



78-110





MLRF21M



90542
14052



0.47-4.70
5.6-39.0



40-65
35-70



90-300
18-55



0.06-1.80
0.13-2.00



360-1970
224-885
 





MLRF22M



90540



1100-3600



60-70



1.50-2.80



21.0-40.0



57-78
 





MLRF24M



90541



3900-10000



80



0.95-1.45



44.0-72.0



47-61





MLRF28M



75103
91189



22-120
1.2-18.0



45-95
40-60



10-24
45-170



0.295-4.100
0.075-4.150



195-725
315-2400





  

Cores are powdered iron or phenolic depending on MS number. Operating temperature range is -55°C to +105°C (Class A) for powdered iron core parts and -55°C to +125°C (Class B) for phenolic core parts. Links to product information, datasheets and other helpful information are provided below.   



Helpful Links:

Series Information:

MLRF19M: http://www.gowanda.com/catalog/qpl/mlrf19m-detail.html

MLRF21M: http://www.gowanda.com/catalog/qpl/mlrf21m-detail.html     

MLRF22M: http://www.gowanda.com/catalog/qpl/mlrf22m-detail.html     

MLRF24M: http://www.gowanda.com/catalog/qpl/mlrf24m-detail.html     

MLRF28M: http://www.gowanda.com/catalog/qpl/mlrf28m-detail.html

'

Datasheets:

MLRF19M: http://www.gowanda.com/images/files/Gowanda_MLRF19M22M24M_Datasheet_04112015.pdf

MLRF21M: http://www.gowanda.com/images/files/Gowanda_MLRF21M_Datasheet_04122015.pdf

MLRF22M: http://www.gowanda.com/images/files/Gowanda_MLRF19M22M24M_Datasheet_04112015.pdf

MLRF24M: http://www.gowanda.com/images/files/Gowanda_MLRF19M22M24M_Datasheet_04112015.pdf

MLRF28M: http://www.gowanda.com/images/files/Gowanda_MLRF28M_Datasheet_04122015.pdf



This multi-series introduction enhances Gowanda's QPL-approved product line and demonstrates the company's ongoing commitment to the development and introduction of QPL products that address the needs of the military and aerospace markets.



For more information regarding pricing, delivery or upscreening requirements please contact Gowanda Electronics at USA +1-716-532-2234 or sales@gowanda.com.



To see all of Gowanda's QPL series go to: http://www.gowanda.com/technical-library/qpl-progress.html.



For more information about QPL go to the website for Defense Logistics Agency DLA Land and Maritime (previously referred to as DSCC) at www.landandmaritime.dla.mil/. For details on MIL-PRF-15305, go directly to: www.landandmaritime.dla.mil/downloads/milspec/docs/mil-prf-15305/prf15305.pdf.

For more info about Space Tech Expo go to www.spacetechexpo.com



Gowanda Electronics (www.gowanda.com) is a privately held company that designs, manufactures and supplies precision electronic components for RF, microwave and power applications. Components include standard off-the-shelf and custom-designed inductors, chokes, coils, conicals, toroids, transformers and magnetic devices in surface mount and thru-hole configurations that are used in a wide variety of electronic applications. Gowanda's products are used primarily by OEM companies and other entities interested in high performance electronic component solutions for the equipment and devices they manufacture. Applications include use in industrial automation & control equipment, instrumentation, medical & diagnostic equipment/devices and test & measurement equipment. Such products are used in a broad range of industries including aviation/aerospace, data processing, defense, education, health care, process & assembly industries, security and telecommunications. Gowanda's customers include Fortune 500 companies and other significant players in these global markets. The company is certified to AS9100, ISO9001 and ISO13485 quality management standards and offers RoHS-compliant products as well as lead-containing components for QPL military/defense and other demanding requirements. Non-magnetic inductors are also available. Gowanda Electronics is an affiliate of Gowanda Holdings (www.gowandaholdings.com).



Online Access:

This news release & JPG options are accessible via Gowanda website "news" section: http://www.gowanda.com/company/news.html

More from Mechanical Components and Assemblies