Wirewound Chip Inductors protect electronic circuitry.
Press Release Summary: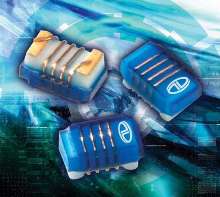 Surface-mount, Series DR354-1-2-3-4 provides protection against EMI problems in high-frequency filtering applications. Depending on model, units feature inductance from 1.6-4,700 nH, with DCR from 0.030-4.3 ohms, over max current rating of 0.700-0.230 A. Available in packages as small as 0.044 x 0.071 in. with 0.040 in. profile above circuit board, miniature inductors are suited for appliances, hand-held scanners, mobile phones, and PDAs.
---
Original Press Release:

New 1 MM Surface Mount Wirewound Chip Inductors Ideal for High-Frequency Applications


Ideal for Appliances, Automotive, Hand-Held Scanners, Instrumentation, Mobile Phones, PDAs and more

ROMOLAND, CA-September 27, 2004--Designed for high frequency applications in a wide range of consumer, commercial and industrial devices, the new DR354-1-2-3-4 Series Surface Mount Wirewound Chip Inductors from Datatronic Distribution, Inc., combine performance, miniature packaging and economy.

With the list of must-have personal and work-required electronic devices growing continuously, the DR354 Series SM Chip inductors provide reliable protection against challenging EMI problems in high frequency filtering applications. The miniature DR354 Series protects electronic circuitry and ensures high performance operation in a wide range of devices that are shrinking ever smaller in physical size.

The versatile surface mount DR354 Series Inductors are available in a wide range of inductance values to meet the needs of just about any circuit. They feature a compact chip design with a low-seated profile as low as 0.040 inches (1.02 mm) above the circuit board. They are ideal for high-density circuit board designs where space is at a premium.

Combining high-performance and dependability, the DR354 Series Inductors are ideal in appliances, automotive, consumer electronics, hand-held scanners, instrumentation, mobile phones, PDAs and much more. Their small size makes them especially useful in hand-held gear of all types.

Depending on specific model, the DR354 Series Inductors feature an inductance range from 1.6 to 4,700 nH, with a DCR from 0.030 to 4.3 Ohms maximum over a maximum current rating from 0.700 to 0.230 Amps. They are compatible with extreme temperature environments, ranging from -40 to +130°C.

With their miniature wirewound chip design, the DR354 Series Inductors come in packages as small as 0.044 inches (1.12 mm) wide by 0.071 inches (1.80 mm) long and stand 0.040 inches (1.02 mm) high. Their flat top surface makes them compatible with high-speed pick-and-place assembly equipment, and they are also suitable for high-temperature soldering.

Custom designed DR354 Series chip inductor packages can be specified to meet unique circuit requirements. The DR354 Series inductors are priced from $0.11 each in typical production volumes. Lead-time is stock to six weeks. Volume OEM pricing is available upon request.

Datatronic Distribution, Inc., manufactures transformers, inductors, ADSL transformers, LAN filter modules and many other magnetic devices in standard off-the-shelf as well as custom packages.

For more information, contact Datatronic Distribution Inc., 28151 Highway 74, Romoland, CA 92585, or telephone toll free 1-888-889-5391, or 951/ 928-7700 or fax 951-928-7701. Product Data Sheet is available for download at: www.datatronics.com/search.asp?txtSearchText=DR354 Email Datatronic at ddisales@datatronics.com or visit the website at www.datatronics.com

More from Agricultural & Farming Products