Wirewound Chip Inductor features 1 A current rating.
Press Release Summary: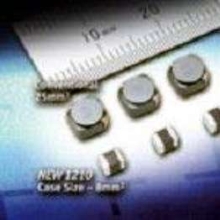 With 3.2 x 2.5 mm footprint, Model CBC3225-4R7MR is designed specifically for space-critical dc/dc converter choke coil applications in battery-powered portables. Unit is rated 4.7 µH and housed in EIA standard 1210 case. Non-polarized electrodes allow mounting in any orientation on circuit board. Applications include cellular phones, digital cameras, PDAs, and other ultra-portable electronic devices.
---
Original Press Release:
Taiyo Yuden Announces Industry's First 1A-Rated Wire-wound Chip Inductor in 1210 Case Size

New 4.7uH device provides 70% surface area reduction vs. 1A-class power inductors used in space-critical DC/DC converter choke-coil applications

SCHAUMBURG, IL-March 15, 2005-TAIYO YUDEN (U.S.A.), Inc. announces the CBC3225-4R7MR, the industry's first wire-wound chip inductor with a 1000 mA (1A) current rating in an EIA standard 1210 case size. Designed specifically for space-critical DC/DC converter choke coil applications in battery-powered portables, the 4.7 uH-rated CBC3225-4R7MR's ultra-compact 8 mm2 (3.2 mm x 2.5 mm) footprint provides an almost 70% surface-area reduction compared to comparably rated power inductors that typically require up to 25 mm2 (5 mm x 5 mm) of PCB real estate. The CBC3225-4R7MR device is the latest addition to TAIYO YUDEN's growing family of high-performance wire-wound chip inductors in 1210 case size. The 13 models in the CBC3225 series offer engineers unprecedented design flexibility with current and inductance ratings from, respectively, 270 to 1440 mA and 1.0 to 100 uH. CBC3225 series devices improve end-device manufacturability by providing non-polarized electrodes that allow mounting in any orientation on the circuit board.

The miniaturization trend in digital cameras, cell phones and other battery-powered portables continues to drive the development of smaller, higher-efficiency components and lower-profile end devices. The choke coil, a key component of the DC/DC converter, is also one of the largest when standard power inductors are used. Though smaller than before, conventional power inductors used in DC/DC converter choke coils remain a miniaturization "bottleneck," preventing further size reduction due to a physical structure that continues to require a relatively substantial amount of PCB mounting space.

In response to the need for smaller power inductors in this application, TAIYO YUDEN developed its CBC3225 line of high-current, wound-chip inductors in 1210 case size. The first in the series, a 760 mA/10 uH device, stimulated significant market interest following its introduction in fall 2004. Subsequent market demand for additional models with expanded high current ratings resulted in the development of a full line of wound-chip inductors that offered designers an unprecedented degree of design flexibility over a range of 270-1440 mA and 1.0-100 uH. Additional models in the CBC3225 series are under development to enable further reduction of the DC/DC converters used in mobile equipment.

A major step forward in meeting the industry's continuing miniaturization trend in cellular phones, digital cameras, PDAs and other ultra-portable electronic devices, TAIYO YUDEN's industry-leading material science expertise and high-precision multi-layering techniques were key to the success of these efforts. The high-current ratings and compact size of the CBC3225 series were the result of a unique structural design that fully optimized the component's performance characteristics by eliminating all space that did not directly contribute to device functionality. For example, the dead-space generated during winding of the ferrite core was optimized to a nearly cylindrical shape that eliminated the wasted space produced by squared-off rectangular surfaces.

For further information, call TAIYO YUDEN (U.S.A.), INC. or visit the company web site at www.t-yuden.com

Sample Price: $0.15 each

Availability: All series models now in mass production; volume 2 million units per month

Delivery: 2 Weeks ARO

About TAIYO YUDEN:

Now in its 55th year, Tokyo-based TAIYO YUDEN CO., LTD. is a worldwide manufacturer of surface-mount and leaded passive components, Bluetooth modules, power electronics modules, power supplies and recordable digital media. With approximately 50% of the worldwide market in high-frequency multilayer chip inductors used in cell phones, the company reports annual sales of nearly US$1.6B. Worldwide, TAIYO YUDEN employs more than ten thousand people. The company's North American affiliate, TAIYO YUDEN (U.S.A.), INC., operates sales and engineering offices in Chicago, IL, Raleigh, NC, Irving, TX, and in California at San Jose and San Diego. For further information, visit the company's website at: www.t-yuden.com.

For Further Information

Jun Nakajima, Marketing Manager

TAIYO YUDEN (U.S.A.), INC.

1930 Thoreau Drive, Suite 190

Schaumburg, IL 60173

Voice: 847-925-0888 Fax: 847-925-0899

E-mail: jun@t-yuden.com

URL: www.t-yuden.com
More from Material Handling & Storage