Wireless Transceivers are FCC licensed for ISM use.
Press Release Summary: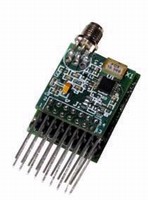 Operating in 315, 433, 868, and 902-928 MHz bands, Multi-Band Transceivers enable users to ship their products worldwide without modifying hardware or firmware. Units come in 3 versions with either serial, discrete, or analog I/O. Operating from 3-14 Vdc, transceivers feature current ratings of 500 mA sleep, 40 mA TX, and 30 mA RX. Typical applications include safety and security, GPS-to-land interface, HVAC, conveyor-silo control, data logging, and process control.
---
Original Press Release:

New Universal Wireless Transceivers For 315, 433, 902-928 & 868MHz ISM Bands



OTEKCORP.com has released its Model MBTR (Multi-Band TRansceiver) that has been FCC Licensed for ISM uses in the U.S.A.

The New MBTR will allow OEMs to ship their product worldwide without modifying their hardware or firmware, generating savings and quick to market results.

The MBTR is available in several hardware configurations from "Naked" (1 x 1.4" PC Mount) to Explosion Proof. Three basic versions are available:
1). Serial I/O (UART, 232, 485 or USB).
2). Discrete I/O (Stop/Start, Momentary, Latch and Virtual Wire) and
3). Analog I/O (V/mADC with Set Points and Signal Conditioners).

The 315 & 433MHz Band can only be used (in U.S.A.) for On-Off or Emergency Transmission (no data) and their output power is factory set at 1mW (good for up to 300' range). The 902-928 F.H. can be used for anything and it is factory set for up to 10mW (more soon) and good for 1000'+. The 868MHz (also 10mW) is not allowed in the U.S.A. but complies with EU and other country's requirements. This band requires an affidavit from the buyer that it won't be used in the U.S.A. (for export only). All configurations are user programmable, except for band and output power (F.C.C. ruling).

The MBTR is available as a transmitter, receiver, transceiver or repeater for limitless range.

Applications include: Safety & Security, GPS to Land Interface, HVAC, Cargo Security, Conveyor-Silo Control, Marinas, Fire, Smoke, Gas, Intrusion, Fencing, AMR, Data Logging and Process Control.

Some Specifications Are: Power Input: 3-14VDC; Current: Sleep: 500mA; TX: 40mA; RX: 30mA; Discrete Inputs: 3-5V TTL/CMOS; Analog Inputs: 0-1VDC; Serial I/O: 8N1; ASCII to 57.6KB; A/D & DA: 10 Bit; LNA: -109dBm (field programmable); PA: 0+ 10dBm (factory set); Mounting: V or H PCB Mount. Op. Temp: -20 + 75°C.

For more information visit www.otekcorp.com or contact Otto Fest at OTEK Corporation at 520-748-7900, Fax: 520-790-2808, or email: Support@otekcorp.com

More from Packaging Products & Equipment