Wireless Telephone combines voice and text messaging.
Press Release Summary: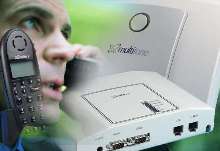 FuturePhone digital telephone system features handset that communicates with wireless base station. Repeaters extend range allowing users to roam. Base stations and repeaters are connected to central control unit that integrates into most telephone systems. System expands in steps of 8, 16, 32, 64, and 128 users. Handsets have built-in screen for displaying monitoring and alarm information, as well as messages from PC or terminal on LAN.
---
Original Press Release:

Multitone's FuturePhone(TM) Wireless Telephone Systems Offer Enhanced Personnel Mobility and Communications


Basingstoke, UK and Atlanta, GA- September 29, 2003, Multitone Electronics plc announced the introduction of FuturePhone, a new digital wireless telephone and messaging system that combines voice and text messaging. FuturePhone systems have been designed as business tools to increase individual, group and organizational communications for improved productivity. They integrate the benefits of a full feature portable telephone system, with the ability to receive data from contact closures to monitoring and alarm systems. The systems can also route messages from PC's connected to a LAN to mobile users.

The result is higher mobility for employees. FuturePhone gives employees the ability to go virtually anywhere in their business environment and remain in touch. This means that they can accomplish more, react faster in emergencies and provide significantly better customer service. FuturePhone also helps reduce piling up of messages in voice mailboxes. It improves personnel responsiveness; reducing the reliance on how quickly they get back to their office to check their messages. They can make, answer and transfer calls and make decisions on-the-move. Since FuturePhone is a private system there are no "air time" costs that may discourage usage.

Multitone's FuturePhone solution is highly modular in design and is affordable by small organizations and large corporations alike. Mobility solutions are available for as few as eight employees who must cover a large facility to up to 128 users who are constantly on the move in their work area.

With FuturePhone's exclusive Access Integrator option, important alarm and process monitoring systems can automatically send messages to individuals or key groups of individuals using a lightweight and compact handset rather than on-desk wired phone instruments. Another exclusive is Multitone's FastCall feature where the single touch of a button can activate a contact whereby a door can remotely be opened or other device be operated - all while being able to "walk and talk".

The FuturePhone system consists of lightweight (4.8 oz) and easy-to-use handset that communicates with wireless base stations. Repeaters extend the range and allow users to roam over large areas without losing a call. Base stations and repeaters are connected to a central control unit that is easily integrated into most telephone systems. System expansion is steps of 8, 16, 32, 64 and 128 users, providing for graceful growth. FuturePhone handsets provide all standard phone features and have a built- in screen for messaging for displaying both monitoring and alarm information as well as messages from a PC or terminal on a LAN. Text and a vibrate modes provide silent alerting so as not to disturb meetings.

About Multitone Electronics
Multitone Electronics plc, a subsidiary of the Champion Technology Group, is a developer, manufacturer and distributor of wireless business solutions. Founded in 1931 Multitone is headquarters in Basingstoke, Hampshire in the United Kingdom and has sales and service facilities throughout the world, including North America, Europe, South America Australia and the Far East.

FreedomPhone reflects the latest advancement Multitone's almost 70 years of business wireless and digital messaging technology research and development directed towards improving organizational and individual productivity, safety and customer service.

For More Information Contact:
Multitone Electronics
6135 Barfield Road
Suite 119
Atlanta, GA 30328
Tel 404-255-8399
Fax 770-234-5790
www.multitone-usa.com

More from Laboratory and Research Supplies and Equipment