Wireless System monitors vibratory conveyors.
Press Release Summary: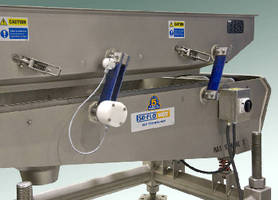 Available as option on Iso-Flo® conveyors, SmartArm(TM) includes self-powered wireless SmartArm sensor, remote base station, and software, enabling users to monitor asset or equipment shaker condition at any computer workstation. System measures and reports speed and stroke to provide real-time analysis of shaker function, line-flow conditions, and trends. SmartArm client also shows alert when speed or stroke are out of tolerance. Operating from -4 to 156°F, system meets NEMA 4X washdown standards.
---
Original Press Release:

Key Technology Introduces SmartArm(TM) for Iso-Flo® Vibratory Conveyors



Applications: processing and packaging lines handling foods, pharmaceuticals, chemicals, tobacco, virgin and recycled plastics and paper, and other products

July 14, 2009 - Key Technology introduces SmartArm(TM), a new wireless performance monitoring system for Iso-Flo® vibratory conveyors that enables users to monitor asset or equipment shaker condition at any computer workstation. The system measures and reports speed and stroke to provide real-time analysis of shaker function, line-flow conditions, and trends at-a-glance. The SmartArm client also shows an alert when speed or stroke are out of tolerance. Empowering the shift from traditional time-based preventive maintenance to condition-based predictive maintenance, SmartArm not only prevents downtime and reduces labor, it also provides the opportunity to improve process efficiencies.

Available worldwide as an option on new Iso-Flo vibratory conveyors and as an upgrade for the installed base of Iso-Flo shakers with StrongArm and older spring arms, the SmartArm system includes a self-powered wireless SmartArm sensor, a remote base station, and licensed software. This monitoring system can be linked to the customer's plant-wide network to deliver line performance data and alerts to remote users.

Monitoring and reporting speed and stroke, SmartArm provides an early warning for maintenance personnel to take action and prevent unplanned downtime, extend the life of the equipment, and reduce consumable spare parts costs. By automatically collecting data in a central location for analysis, SmartArm reduces the need for maintenance walk-throughs while alerting operators to make adjustments and perform maintenance when needed, which reduces maintenance-related labor costs. Trending data that analyzes real-time line-flow conditions, as well as shaker performance, supports process improvement decisions that can optimize equipment performance and increase production line efficiencies throughout the plant.

The CE-marked SmartArm sensor, which is mounted to the Iso-Flo's existing spring arm bracket, operates in environments from -20º C to 70º C (-4º F to 156º F) and meets NEMA 4X washdown standards. The sensor measures acceleration and reports speed and stroke every 15 minutes, wirelessly transmitting this data to the base station. The base station, with its small footprint of 7 by 11.4 cm (2.75 by 4.5 inches), is installed within 90 m (300 feet) of each sensor in a non-washdown location with an Ethernet connection to the plant network. The licensed software is installed on a network server to support an unlimited number of base stations and provide access to the data from an unlimited number of client-computers including remote access via VPN (virtual private network).

This system is easy to install and operate. All firmware on the sensor and base station is programmed prior to shipment from Key. Sensors are shipped to the customer in transmitting mode. The base station begins receiving and sending data as soon as it is connected to power and the network. Data is analyzed against the design speed and stroke of each specific Iso-Flo shaker to present real-time and trending data as well as alerts for out-of-specification performance. The data can also be sent to the plant SCADA or HMI system via the OPC XML-DA communication protocol.

Based on the reduction of planned and unplanned downtime, maintenance labor, and improvements in production line efficiencies, SmartArm typically achieves a payback in less than one year.

"With SmartArm, Key is providing a tool that allows processors to take maintenance to a new level with predictive modeling," noted Teri Johnson, Marketing Manager at Key Technology. "This development is a part of Key's ongoing effort to deliver more value to our customers via innovative equipment solutions. Using sensors to collect and report equipment and environmental data to plant personnel in an easy-to-use manner is a wave of the future that we are aggressively exploring."

For more information about SmartArm, visit:
www.key.net/products/common-vibratory-elements/smart-arm.

About Iso-Flo Vibratory Conveyors

Key offers Iso-Flo conveyors for product distribution on processing and packaging lines as well as product alignment, fines removal, scalping, dewatering, inspection, and other applications. Key's Iso-Flo vibratory conveyors use independent, frame-mounted drives and spring arm assemblies that distribute energy equally to all parts of the conveyor bed in a controlled natural-frequency operation. The low amplitude, high frequency movement offers gentle product handling, quiet performance, and superior equipment reliability.

About Key Technology, Inc.

Key Technology, an ISO-9001 certified company, is a leading designer and manufacturer of process automation systems, integrated electro-optical inspection and sorting systems, and processing systems. Key® systems help processors to improve quality, increase yield, and reduce cost. With worldwide sales representation, the company maintains demonstration and testing facilities at its headquarters and manufacturing divisions in Walla Walla, Washington, USA, and at Key Technology BV in Beusichem, the Netherlands. The company's common stock trades on the Global Market tier of The NASDAQ Stock MarketSM under the symbol: KTEC.

Reader Inquiries To:

Anita Funk, Corporate Communications Manager

Key Technology, Inc.

150 Avery Street

Walla Walla, WA 99362 USA

Tel: 509 529 2161

Fax: 509 527 1331

Email: afunk@key.net

URL: www.key.net

More from Controls & Controllers