Wireless Router features shared printer connectivity.
Press Release Summary: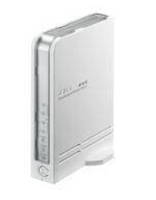 Equipped with internal antenna, ASUS RT-N13U features EZ UI for setup and management of printers and other networked resources. Suite of connectivity solutions includes EZ All-in-One Printer, which allows multiple users to share printers and scanners without dedicated server. QIS facilitates device connection to Internet, while Dr. Surf offers real-time diagnostics for rapid troubleshooting. EZ QoS lets users prioritize application bandwidth, and Network Map provides overview of network status.
---
Original Press Release:

ASUS RT-N13U-All-in-one Router with Shared Printer Connectivity



Taipei, Aug 11, 2009 - The ASUS RT-N13U wireless router is the latest in the line of quality routers from ASUS that aims to provide users with a host of easy-to-use wireless features. Among them, the EZ UI lets users set up and manage wireless connections, printers, and scanners with exceptional ease. It also facilitates troubleshooting, sharing of multimedia content and documents, as well as the allocation of bandwidth to different activities based on user preferences. With more wireless connectivity options, the ASUS RT-N13U can also support 24/7 downloads-even when the PC is turned off. It is also a stylish performer that complements any home or office with its clean design and hidden internal antenna.

Configure an All-in-one Printer Easily with EZ UI

The ASUS RT-N13U wireless router features EZ UI, a powerful graphical user interface that provides intuitive setup and easy management of printers and other networked resources. It features a suite of innovative connectivity solutions including EZ All-in-One Printer, QIS, Ai Disk, Dr. Surf, EZ QoS, and Network Map.

EZ All-in-One Printer allows multiple users to share printers and scanners without a dedicated server managing the process. It increases office efficiency by handling multiple printing requests simultaneously. Additionally, convenient scanning can be done on the printers with auto-installation of drivers. No loading of additional programs is required. For easy configuration, EZ All-in-One Printer supports and detects all the major printer brands on the market.

QIS (Quick Internet Setup) facilitates device connection to the Internet in three easy steps. With Ai Disk, users can easily set up a file-sharing server at home in three simple steps. Dr. Surf offers real-time diagnostics for rapid troubleshooting. EZ QoS lets users easily prioritize application bandwidth for an optimal experience. Network Map provides a complete overview of network status for easy monitoring.

Set Up Effortlessly with EZ Switch

For more advanced users, the ASUS RT-N13U features the exclusive EZ switch with three modes to meet various wireless network requirements. If a user wants to set up an ADSL network at home, they can set the EZ Switch to router mode, whereas if they want to use wireless connectivity, the EZ Switch can be set to repeater mode. Lastly, if the user has another router at home, they may choose the AP mode, which allows them to share the network.

Internal Antenna-A Stylishly Well-received Connection

Another innovative feature of the ASUS RT-N13U is its design. It features an internal antenna, which provides wider coverage than an external antenna. Furthermore, with an optimized antenna isolation configuration, users can get even better connectivity, as well as extremely clear reception for the best performance with minimal adjustments. Finally, with a clean and minimalist exterior, the ASUS RT-N13U is a stylish and contemporary addition to any home.

Contact:

ASUSTeK Computer Inc.

Angie Lee

TEL: 886 2 2894-3447 ext 5911

E-mail: Angie_Lee@asus.com

More from Chemicals & Gases