Wireless Protocol Stack runs natively on µClinux.
Press Release Summary: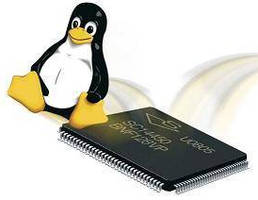 Natalie DECT and CAT-iq protocol software stack reduces number of ICs needed for cordless telephony-enabled VoIP solutions. In addition to enabling re-use of available open-source code to accelerate application development, it lets users run DECT stack and VoIP software on same processor. Solution also broadens mobility options for VoIP, allowing cordless handsets or headsets to seamlessly link to VoIP networks while maintaining voice quality associated with DECT/CAT-iq.
---
Original Press Release:

SiTel Ports DECT Software to µClinux for Cost-Effective VoIP Applications



Protocol software running under popular open-source OS reduces BoM costs for desktop phones, IP DECT basestations and Analog Terminal Adapters

Hertogenbosch, The Netherlands, December 8, 2008 - SiTel Semiconductor today announced a new release of its proven Natalie DECT and CAT-iq protocol software stack that runs natively under the royalty-free µClinux operating system. The move allows customers to run the DECT stack and Voice over IP (VoIP) software on the same processor. This helps reduce the number of ICs needed for cordless telephony-enabled VoIP solutions, leading to lower bill of materials (BoM) and assembly costs. The new software is available with SiTel's VoIP development kits, a combination that allows customers to quickly create cost-effective integrated products and reduce time-to-market

By making its DECT / CAT-iq software available under µClinux, SiTel enables customers to re-use the wealth of available open-source code to develop applications faster - further reducing both development costs and time-to-market. It also opens the way for a range of mobility options for VoIP, allowing cordless handsets or headsets to seamlessly link to VoIP networks while maintaining the voice quality associated with DECT and CAT-iq.

"VoIP is rapidly becoming the preferred telephony option for businesses as it offers significant potential to reduce costs," said Mark De Clercq, Product Marketing Manager at SiTel. "With native support for our mature DECT stack under the industry-standard µClinux operating system, our customers can now confidently build cordless telephony into their next-generation VoIP products, effectively bridging these two technologies."

Natalie is a complete, proven and scalable wireless protocol stack in C source code, based on a user-friendly, modular architecture. It incorporates all industry accepted protocols (DECT, DECT 6.0, 2.4 GHz, 5.8 GHz and CAT-iq). With this latest release, the DECT / CAT-iq protocol stack is now fully integrated with µClinux and controlled via a high-level application programming interface (API) for easy call control.

µClinux is the most popular open-source operating system for embedded applications. It is a derivative of the familiar Linux OS tailored for use on microcontrollers without Memory Management Units (MMUs). This versatile OS has been successfully ported to numerous platforms, and has been used by a wide community of engineers and programmers for almost ten years. It is also supported by extensive (C-language) libraries.

About the Enterprise VoIP development kit
SiTel's Enterprise VoIP development kit provides a single, flexible platform for creating a wide range of wired and wireless enterprise VoIP solutions. The platform has a modular hardware architecture made up of a single motherboard (SC1445x VoIP processor) plus a number of optional daughter boards - Ethernet, LCD screen and keypad, Foreign eXchange Subscriber (FXS), Foreign eXchange Office (FXO), WiFi and DECT radio modules.

Featuring a number of hardware and software optimizations, the latest versions of the development kit have been proven to deliver power consumption level 50% lower than any VoIP phone on the market today.

About the SC14450
The SC14450 processor uses SiTel's proven multi-core architecture to deliver 240 MIPS of processing power. It features a 16-bit CompactRISC(TM) processor, plus two user-programmable Gen2DSPs. It can run the various VoIP audio codecs and best-in-class acoustic echo cancellation while still having enough headroom for the TCP/IP networking stack plus assorted SIP and other embedded applications.

In addition, the SC14450 supports a variety of external memories, and features an integrated class D amplifier, power and battery management options, a white LED driver and a wide variety of peripheral interfaces including master / slave PCM, UART, SPI, dual-access bus and USB client.

About SiTel Semiconductor BV
SiTel Semiconductor BV was established in June 2005, following a management buy-out from National Semiconductor Corporation. Headquartered in Hertogenbosch, the Netherlands, SiTel also has a satellite design centre in Hengelo, the Netherlands, with regional sales offices in Hong Kong, Japan and the U.S. A specialist in the field of design, manufacturing and marketing of high-performance digital cordless communication ICs, SiTel strives to become the world's number one supplier for digital cordless communication ICs. The company's leading-edge products include CMOS RF and baseband ICs, including voice / data modules with embedded software, and target a large range of cordless applications from basic up to high-end. These include cordless phones, conference phones, PABX products, headsets, set-top boxes, home entertainment systems and cordless game pads.

For more information, visit www.sitelsemi.com

For further information, please contact:
SiTel Semiconductor BV
Mark de Clercq
Product Marketing Manager
E-mail: mark.de.clercq@sitelsemi.com
Tel: +31 (0) 73 - 640 8822
Fax: +31 (0) 73 - 640 8823