Wireless Printers aid in supply chain management.
Press Release Summary: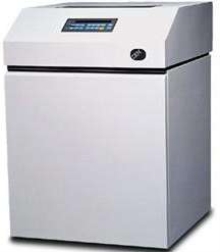 Designed for point of need printing in warehouse, distribution or manufacturing facilities, 6400 impact printer and 4400 thermal printer function in wired or wireless mode. Their IEEE 802.11b Wi-Fi compliant, dual network interface card requires PCMCIA radio card for wireless operation. Included Printer Management Utility supports full visibility of printers, notifying administrators to supply conditions or alerts and enabling remote configuration.
---
Original Press Release:

Infoprint Solutions for Supply Chain Management: Wireless


Avoid long lines and high costs with wireless technology.

IBM's wireless technology for IBM printers gives you the flexibility you need to implement point of need printing. Reengineer warehouse workflow or support mobile workers without the expense and delays associated with buying and routing cable. When you identify added efficiencies by changing business workflow or facility layout, have the ability to instantly relocate printers. When you expand into a new facility, become productive immediately without installing an expensive wired network.

Warehouse, distribution or manufacturing facilities

Place printers next to the outgoing boxes and print labels on demand.

Reduce mis-labeling.

Save the time it takes to transport labels from a centralized location to the point of need.

The IBM 6400 impact printer and the IBM 4400 thermal printer both offer a Dual network interface card (NIC) that allows the printers to function in either a wired or wireless mode.

The NIC is compliant with IEEE 802.11b Wi-Fi and requires a PCMCIA radio card for wireless operation.

Wireless printing is enabled through devices called access points that form the bridge between the wired and the wireless world.

Printer Management Utility (PMU) software for IBM industrial printers supports full visibility of both wired and wireless printers - notifying administrators to supply conditions or printer alerts and providing for remote configuration of printer parameters

General office environments

Support multiple users in workgroups of all sizes

Maintain printer support during office reconfigurations

Enable printing from locations like meeting rooms, classrooms, reception areas, and back offices.

The IBM 802.11g Wireless Print Adapter allows users to easily convert an IBM Infoprint 1000 family laser printer with standard Ethernet connectivity to a wireless printer. The wireless adapter

Connects to the printer's existing Ethernet port

Transforms the Ethernet signal to an 802.11b wireless signal

Works in conjunction with existing Wi-Fi certified access points

Business doesn't wait for wire. Neither should you.

More from Services