Wireless Photoelectric Sensor is completely self-contained.
Press Release Summary: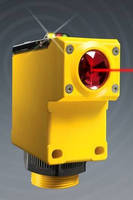 Used for control and monitoring applications, SureCross® Q45 turnkey, self-contained battery, radio, and sensor solution has communication range of up to 3,000 ft and offers multiple I/O with support of wireless network of up to 47 Q45 sensors per gateway. Power management delivers up to 5 year battery life from 2 replaceable AA Lithium batteries. Along with site survey capabilities, IP67-rated solution offers deterministic PLC-level reliability.
---
Original Press Release:

Banner Engineering Announces Industry's First Completely Self-Contained Wireless Photoelectric Sensor Solution



SureCross® Q45 Wireless Photoelectric Sensor

Minneapolis, MN -- Banner Engineering introduces the SureCross® Q45, the world's first self-contained, wireless standard photoelectric sensor solution designed for control and monitoring applications. When traditional solutions are significantly more costly due to infrastructure requirements-complexities of cables, conduits and installation-operators can quickly integrate a scalable, wireless sensor network to improve efficiency by monitoring and coordinating multiple machines and processes.

"The SureCross Q45 was developed from the ground up, exclusively for the demands of industrial automation," said Scott Pritchard, Director of Wireless at Banner Engineering. "The proprietary, self-contained battery, radio and sensor solution, featuring easy deployment and untethered communications, provides the functionality, reliability and determinism required for factory applications."

As an established leader in photoelectric sensors and wireless technology, Banner Engineering is the first and only company to develop a 100 percent self-contained wireless sensing solution. The SureCross Q45 improves efficiency in control and monitoring applications through the following performance features:
· Turnkey photoelectric wireless photoelectric solution
· Proprietary power management delivers extended battery life up to five years on two replaceable AA Lithium batteries, depending on sensor and application
· Long range communication of up to 3,000 ft./1 km line-of-sight minimum
· Multiple I/O with support of a wireless network of up to 47 Q45 sensors per gateway
· Deterministic PLC-level reliability
· Built-in site survey capabilities
· Robust, IP67/NEMA 6P protection against liquids and debris common to industrial environments

"The flexibility of the SureCross Q45 sets it apart from anything else our customers have used," said Bob Gardner, Senior Product Manager at Banner Engineering. "With performance capabilities ranging from the detection of objects in simple presence/absence or alignment applications to call-for-parts and error-proofing in productivity solutions, the SureCross Q45 can accurately connect and solve applications that were difficult, costly or nearly impossible with conventional technologies."

The SureCross Q45 is ideal for many applications, including cable replacement, moving applications, remote applications and productivity solutions. To meet diverse application requirements, models are available in Polarized Retroreflective, Convergent Visible, Remote Device Interface and Fiber Optic.

Learn more about the SureCross Q45 Wireless Photoelectric Sensors by visiting www.bannerengineering.com or by watching the video at the following link: http://www.youtube.com/watch?v=7l8z4kpQovw.

About Banner. Banner Engineering is a world leading manufacturer of photoelectric and ultrasonic sensors, indicator lights, vision sensors and vision lighting, electronic machine safeguarding systems, wireless networks, fiber optic assemblies and precision measurement systems.

For further information, contact Banner Engineering Corp., 9714 Tenth Avenue North, Minneapolis, MN 55441. PH: 888.373.6767 (Toll-free North America), or 001.763.544.3164 (International). FAX: 763.544.3213. Email: sensors@bannerengineering.com. E-commerce: www.bannerengineering.com/buyonline. Web: www.bannerengineering.com

More from Test & Measurement